Victor Anichebe says he has no regrets at leaving Everton
By Oluwashina Okeleji
BBC Sport, Lagos
Last updated on .From the section Football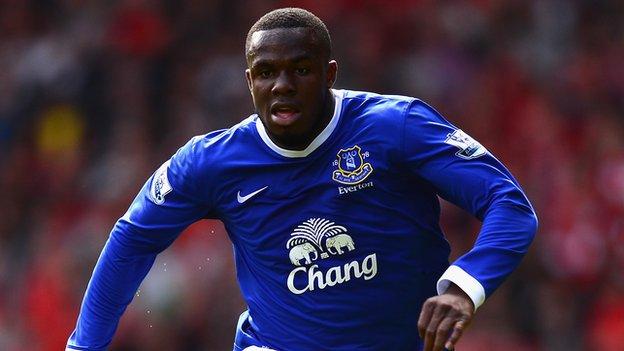 Victor Anichebe says he joined West Bromwich Albion because he felt in need of a change and wanted a boost.
The 25-year-old striker made the move from Everton, where he had spent his whole career to that point, on transfer deadline day in September.
And after a decade and a half with Everton, Anichebe believes the time was right for a new challenge.
"I felt like a change could give me an added boost," Anichebe told BBC Sport.
"I had a great time at Everton, I was there for 15 years. Of course there were ups and there was downs, but that is all part of life .
"After coming off a good season I just thought it would be good for me to build on that.
"Sometimes being at one place can make you take things for granted and feel too comfortable.
"Sometimes you have to take a leap of faith and see how it goes, if not you will always wonder what might have been."
Anichebe struck 26 goals in 168 appearances for Everton but admits he would have liked to have had a bigger impact.
"The only thing that disappoints me is not making more of a mark there and showing people the real me on a more consistent basis," he said.
"But I'm blessed to have experienced some great times there. I can recall the European nights and how enjoyable they were for me and for the fans.
"Everton gave me the life and opportunity I have today, so I am forever grateful for that.
"Through being injured, the good times and the bad, Everton really helped me grow up and see things in a different aspect.
"It really is a great club and I want to say thank you to everyone that has supported me throughout my whole time there."
The Nigeria international revealed he was wanted by clubs other than West Brom but was drawn to the club by fond memories of playing well against them.
"There were a couple other clubs interested but l have had key moments in my career against West Brom really defining moments," he added.
"I scored my first senior goal against them in Duncan Ferguson's last game for Everton.
"I have scored a couple of goals against them on different occasions and also the most memorable was on New Year's day.
"I think two years ago, my father was really struggling in hospital and I scored the winner that day after coming back from a lengthy injury, the joy alone brought him back to life and I thank God.
"And West Brom are a very good stable club with good fans, good players and a good management team."