Rangers shareholders withdraw board change demands
Last updated on .From the section Football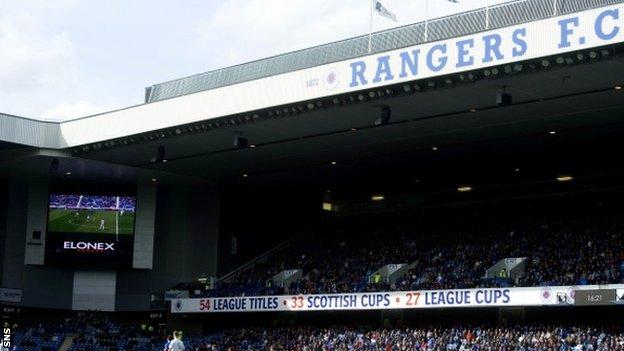 Disgruntled Rangers shareholders demanding an extraordinary meeting and the removal of chairman Craig Mather have withdrawn their request.
The group, which includes businessman Jim McColl, had also demanded that directors Brian Stockbridge and Bryan Smart should stand down at Ibrox.
They wanted accountant Frank Blin and former director Paul Murray appointed.
"The company can confirm that the requisitioners have withdrawn the requisition," Rangers said.
The League One club said in a statement to the Stock Exchange that this had followed continuing discussions between the board and representatives of the group.
An agreement , otherwise the club would be forced to convene a general meeting - prior to the annual meeting scheduled for October - to settle the disagreement.
Rangers had announced earlier this month that the board would consider a request for .
However, Rangers have now stated: "The company confirms that all of the current directors remain in office and that it is not appointing any additional directors save that as previously announced, the company confirms that it continues to actively seek to appoint a new chairman."
Former Rangers manager Walter Smith resigned as chairman in August after the controversial return to the club of former chief executive Charles Green as a consultant.
The group including Clyde Blowers chairman Jim McColl last week denied Rangers' claim that they had agreed to a vote of confidence in the current board in return for the addition of four new directors to form a board of nine.
With no compromise being reached, the make-up of the board now looks set to be resolved at the club's annual meeting.
The only concession from the group making the demands appears to be that the club is spared the expense of convening a separate meeting.