Andy Carroll: West Ham to seek specialist help on injury
Last updated on .From the section West Ham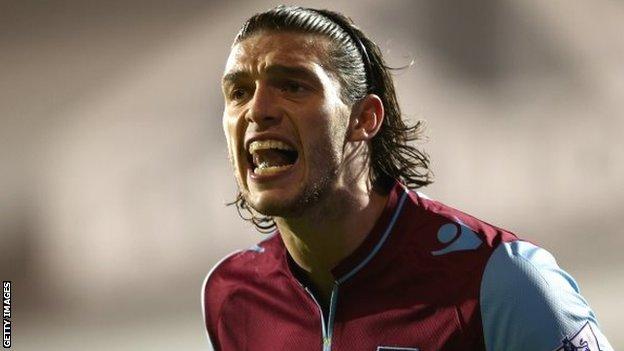 West Ham are seeking specialist advice on treating Andy Carroll's injured foot after receiving scan results.
The club-record £15m summer signing from Liverpool has not played since picking up a heel injury in the final game of last season while on loan.
He had been close to a return but was hurt in training on Monday.
Scans have confirmed it is a recurrence of May's injury, although West Ham cannot say how long the striker, 24, will be out until he sees a specialist.
Carroll has injured his plantar fascia, a tissue that connects the bottom of the foot to the heel.
West Ham said they would "ensure Carroll is given the best possible treatment and will seek expert advice from specialists around the world".
Hammers boss Sam Allardyce said: "According to the specialist the chance of a recurrence of that type of injury is about 4% but unfortunately for Andy he was one of the unlucky ones.
"We had been very cautious, very patient with him along the way and it's sad this has happened for him as well as us.
"He doesn't need an operation but we need to give the foot time to re-heal, continue the rehab and get him back in training again."
Carroll started 22 Premier League games for the Hammers last season while on loan from Liverpool, scoring seven times.
He cost Liverpool £35m when he moved from Newcastle in January 2011, but scored just six league goals for the club.