Rangers: Battle for control delayed to AGM amid angry exchanges
Last updated on .From the section Rangers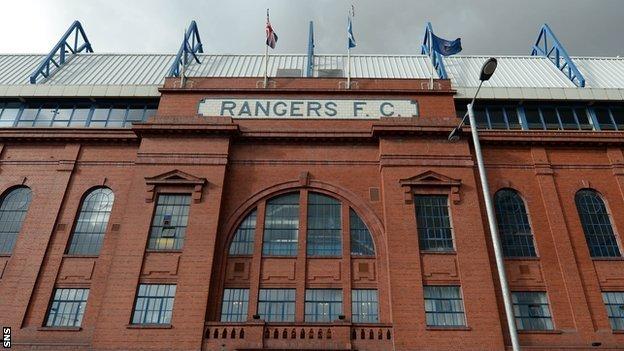 Rangers chief executive Craig Mather has accused shareholders trying to force changes to the board of lacking vision, investment or a plan.
The group this week withdrew a request that would have forced an extraordinary meeting of the company.
And Mather said he hoped it would lead to "a period of calm and stability" to "continue the progress" of the club.
But businessman Jim McColl has warned that the battle for control of Rangers has only been postponed.
"If the board think this has gone away, they're delusional," he said in a statement.
"The issue has merely moved to the AGM. The requisitionists still want change and have not wavered from this final objective."
The high-profile shareholder and chairman of Clyde Blowers issued his statement after meeting with various fans groups on Friday along with former Rangers director Paul Murray.
Their group had earlier in the day revealed that accountant Frank Blin, who they had wanted installed on the board, was no longer seeking election.
And they claimed that this was a result of the club's broker blocking a compromise agreement that would have added Blin and Murray to the board.
But Mather accused the group of having "no plan, no investment, no vision, just an obsession to wear a tie and sit in the directors' box".
"On occasion, it has felt like being anchored in the eye of a storm of wild accusations hurled by men who have been determined to do everything in their power to slow this club's progress back to the top," he said.
"It is easy to toss insults and misinformation around like confetti without ever putting forward a coherent business plan with any degree of credence."
Mather suggested that there were splits within the shareholders group itself.
"As I have said before, I have been talking with Jim McColl behind the scenes and I cannot and will not say anything that could damage him - I still believe he would have been a valuable addition to our board - and I accept with good grace Frank Blin's decision to remove himself from the process," said the chief executive.
"Surely, Paul Murray and the others involved can also see that Rangers should have the time and space in which to continue its rehabilitation and journey back to the top."
During negotiations, former chairman John McClelland and bus tycoon Sandy Easdale had also been proposed as directors by the group, which had originally called for Mather, finance director Brian Stockbridge and Bryan Smart to leave the board.
Mather claimed that, had Rangers agreed to their removal, the company would have been left without directors to manage the day-to-day business of the club and had its shares suspended from trading.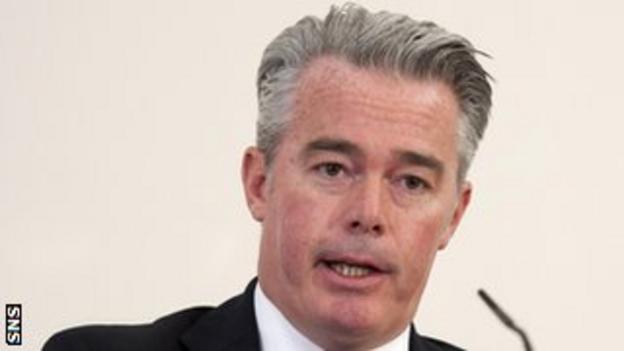 "We will not be deterred," he said. "We will continue our rebuilding of this club and, even though our support have had to deal with scaremongering of the worst kind, they will, in time, see that everything the current board are doing is for the good of Rangers.
"We believe totally that we are making a difference. Even though some of us have been referred to as burglars, amateurs, asset strippers, you name it, we have kept going.
"I also know money hasn't been disappearing without trace and that assets are never going to be sold off, but there are some who simply will not believe that no matter what I, or any of the other directors, say."
However, the shareholders group said the annual meeting would provide "the platform for the shareholders to decide who should lead the club".
"All the directors will have to offer themselves for re-election and we would encourage all shareholders to vote and show whether they have confidence in the current board or not," they said.
They said a compromise agreement had been reached by the board to allow Murray and Blin to join the board but that Strand Hanson, the broker advising the club, refused to approve it.
"Despite repeated attempts by us, Strand Hanson have refused to engage with us to explain the reasons for their stance," they said.
Nobody from Strand Hanson was willing to comment.