England's Katie Chapman queries FA stance on motherhood
Last updated on .From the section Football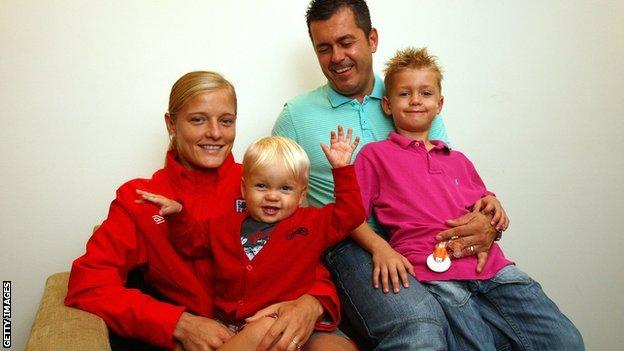 England international Katie Chapman has questioned the Football Association's policy towards mothers in the team after claiming she was dropped for wanting time off to look after her family.
Arsenal midfielder Chapman, 31, moved to play in the United States in 2010, but returned home with her two children after her husband failed to find work.
Having asked for a short break from international football, her central contract was cancelled hours later.
"It was really upsetting," she said.
"The time I needed time out, I didn't feel very supported. I had a 10-minute conversation with [former boss Hope Powell] and then three hours later, I got an email to say my central contract had been finished.
"I don't know if it was because I was a mum, but I needed that time for my children."
She said: "In America, on international duty they have nannies. They take their children with them and have nannies on site so when they're training it's all looked after.
"In the [FA] central contracts, there should definitely be something about maternity and children, and how they can help and support.
"There are going to be international players who are going to have children and they shouldn't have to give that up."
The FA said it had changed its family policy since Chapman was involved with England and that future decisions would be taken by a wider group of people.
Until she was dropped, Chapman was at the heart of England's midfield and received 82 caps after making her debut as a 17-year-old in 2000.
Having rejoined Arsenal after her return from the US, she is one of the women's game's most decorated players, having won major honours with every English club for whom she has played.
She has not appeared for her country since helping England qualify for the 2011 World Cup. She missed out on that tournament, the 2012 London Olympics and the 2013 European Championship, where England struggled.
But now Powell has left the Football Association, Chapman - who has since had another child - says she would like to be involved again and attempt to reach the milestone of 100 caps.
The FA said in response to Chapman's claims: "The FA will fully support any England women's player should they wish to take maternity leave or spend time concentrating on their family life.
"We have a maternity policy in place for players on an FA central contract and all contracts remain in force during the period of any player's pregnancy/maternity leave. This policy was approved by the Professional Footballers' Association.
"The FA has previously accommodated players' family members at the team hotel during a tournament and we will continue to fully support our players in the future."
Chapman was the last mother to play for England, while former captain Faye White retired at the age of 34 after announcing she was expecting her first child.
The women's game in England has undergone major changes over the past two years, with the top division being rebranded to become the Women's Super League and moving to a summer schedule.
It also comes as the FA has laid down a five-year plan called Game Changer, marking out its ambition to make women's football the second biggest participation sport behind men's football.
"Other than that conversation, I've had no contact with Hope or anyone else," Chapman added. "It was a shame it all came to an end like that.
"It's really disheartening because you put your heart and soul into something. It was crazy just be dropped with a pinch of salt.
"I've never retired from international football and I'd love to go back. I'd love to get 100 caps for England if that opportunity arose. I'm in the same situation with my children and childcare, so we'd have to work out how it would all work."
5 Live Sport Special Pregnancy and Sport, Thursday 19 September at 20:00 BST.