Kei Kamara praying Middlesbrough move is "right"
By Mohamed Fajah Barrie
BBC Sport, Freetown
Last updated on .From the section Football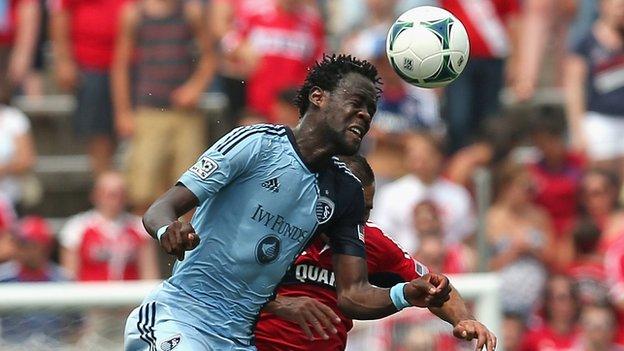 Sierra Leone international Kei Kamara is hoping he has made the right choice by joining English Championship side Middlesbrough.
It is a return to England for Kamara, who had an 11-game loan spell with Norwich last season in the Premier League - during which time he became the first Sierra Leonean to score in the top flight.
But he admits he will have to adapt to a different challenge posed by English football's second tier.
"I have played in the Premier League but I don't think playing in the Championship means that my career is going down at all," Kamara told BBC Sport.
"Everybody will tell you that the Championship in England is one of the hardest leagues in the world because every team is trying to be promoted.
"It's a joy playing in the Premier League but I know that you have to compete harder playing in the Championship.
"I pray it's the right move, I hope it's the right move."
Kamara and his family fled to the United States as refugees in 2003 and since then he has played for MLS clubs Columbus Crew, San Jose Earthquakes and Houston Dynamo before joining Kansas in 2009.
"I have moved to different clubs before but all been in USA and now I got the chance to get a permanent move outside USA," he said.
"Every player has to move at some point. For me I'm just hoping it's the right move. I'm very happy about the move but I am sad to be leaving Kansas City."
Kamara is expected to make his Championship debut against Ipswich Town on Saturday and he is eager to start well.
"I'm looking forward to make my debut and i hope to give out my best," he said.
"My goal is to help Middlesbrough get promotion to the Premier League."