Joe Allen defends Wales manager Chris Coleman after Verheijen jibe
Last updated on .From the section Wales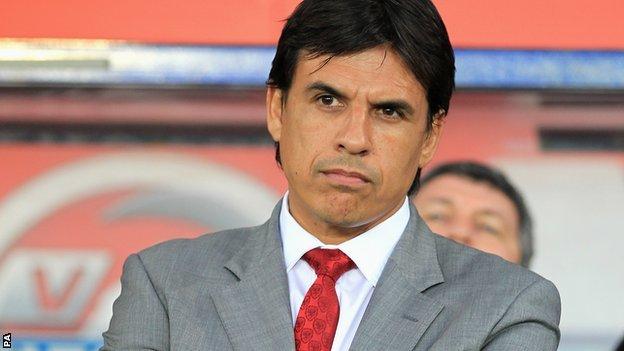 Wales midfielder Joe Allen has dismissed criticism of national manager Chris Coleman by Raymond Verheijen.
The Dutchman has publically blamed the current "coaching staff first of all" for Wales' poor recent results.
"Every manager has differences but the way we're trying to play, the way we are set up and the way we prepare is almost identical," Allen said.
Wales are bottom of their 2014 World Cup qualifying group after the recent defeats away by Macedonia and home by Serbia, with just two games of the campaign remaining - against Macedonia and Belgium in October.
Verheijen claims that Coleman and his staff - and by proxy the Football Association of Wales for employing the former Fulham, Real Sociedad and Coventry boss - have failed to turn "very talented players" into a strong team.
But Allen, who missed the two Wales defeats with a hamstring injury but has an outside chance of playing for Liverpool against former club Swansea City on Monday, says that there is no dip in their preparation under Coleman from the Speed era.
"I think that's unfair criticism. I think we're doing everything right except when the whistle goes out on the pitch it just hasn't quite clicked," said Allen, speaking to the Sport Wales programme.
"But we will learn from these experiences, as painful as it might be for the fans watching at times, we'll be better for it and we've got these [last two] games to put things right again.
"Raymond is pretty outspoken anyway. He's entitled to his opinion, but from the players' point of view, who see it from the inside, that's unfair and I don't think that's true."
Coleman and the FAW are close to agreeing a new contract that would see the former Wales skipper carry on as manager after his current deal ends in October.
There has been no indication that the FAW is looking at any alternatives, despite the two latest defeats and the embarrassment of Coleman missing the team flight prior to the Macedonia game after losing his passport.
"All the players are really happy with the management. That's not the problem at all," Allen added.
"After disappointing results people naturally turn on the manager.
"But as players we're all fully behind him, we're all happy with the way he wants to go about the job and we're faithful it's going to bring us success.
"We want to see him sign that contract and take us into the next campaign."
Watch the full interview with Joe Allen on Sport Wales on Friday, 13 September; BBC Two Wales, 21:30 BST