Ian Black: Ally McCoist stands by gambling ban midfielder
Last updated on .From the section Rangers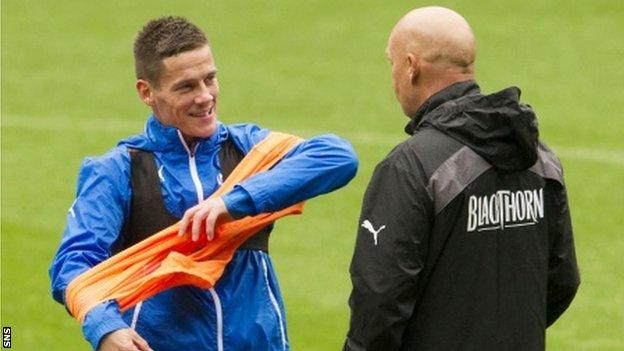 Rangers manager Ally McCoist says he will select Ian Black in future despite the midfielder being .
Black was fined £7,500 and handed a 10-game ban - seven of which have been suspended for a year.
McCoist said that the 28-year-old has also been disciplined internally.
"The decision has been made and he's been punished," said McCoist. "Now we just move on. That's it for me, the issue is closed."
Black had admitted betting on his own team not to win on three occasions and gambling on 10 other matches involving his then club.
The former Hearts midfielder's charges related to a seven-year period stretching back to his time with Inverness Caledonian Thistle.
He was also warned over making 147 bets on matches not involving his own team, which also breaches the Scottish FA's zero-tolerance rules on gambling.
Rangers last year after the striker was caught making comments about his contract and his openness to discussing a potential transfer during a prank phone call.
However, McCoist says he has discussed Black's case with his club's chief executive and will consider the midfielder, who earned his only Scotland cap last year, for selection when his ban is lifted at the end of the month.
"I have seen every one of his bets and I certainly don't have a problem with Ian Black playing for Rangers again," said the team boss.
"I don't have a problem with his commitment to our club, his commitment as a player, his commitment in all the games.
"Craig Mather and myself have sat down and had a chat.
"Disciplinary action has been taken, but it is an internal matter and that's the way it will remain."
Rangers defender Steven Smith insists Black also has the backing of his team-mates.
"I have no issue lining up alongside Blackie, absolutely none," he stressed. "Everyone has got an opinion, but I would love to have him in my team every week because I know he gives 100 per cent.
"I can only speak from the players' point of view, but we are happy to have him. We'll be delighted when his ban is up."