Rangers: Sandy Easdale joins brother James on club's board

By Chris McLaughlin
Senior Football Reporter, BBC Scotland
Last updated on .From the section Rangers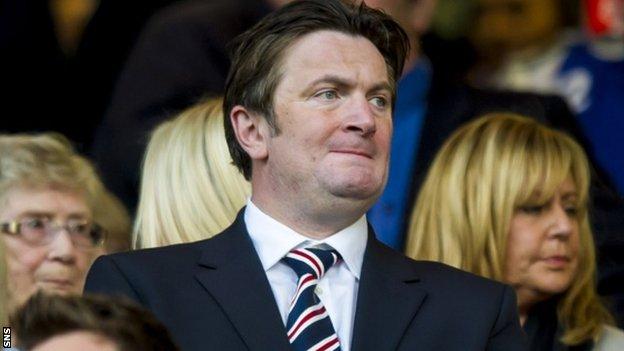 Greenock businessman Sandy Easdale has joined brother James on Rangers' football board.
James Easdale was appointed to the board in July after Charles Green's departure as chief executive.
The football board now consists of the Easdales, chief executive Craig Mather and finance director Brian Stockbridge.
In August, Sandy Easdale, who runs McGill's bus group with his brother, bought Green's stake in Rangers to become the largest shareholder.
Sandy Easdale was sentenced to 27 months in prison for non-payment of VAT in 1997.
But that conviction is unlikely to result in Rangers falling foul of the Scottish FA's "fit and proper person" criteria for club directors because of the time frame involved.
On Thursday, a group of disgruntled Rangers shareholders who had demanded an extraordinary general meeting and the removal of chairman Mather withdrew their request.
The group, which included businessman Jim McColl, also wanted directors Brian Stockbridge and Bryan Smart to stand down from the board of Rangers International Football Club PLC, which is the parent company of The Rangers Football Club Ltd.
They wanted accountant Frank Blin, former director Paul Murray, former chairman John McClelland and Sandy Easdale appointed.
However, Rangers stated: "The company confirms that all of the current directors remain in office and that it is not appointing any additional directors save that as previously announced, the company confirms that it continues to actively seek to appoint a new chairman."
On Friday, Mather accused those shareholders trying to force changes to the board of lacking vision, investment or a plan.
And McColl's group had earlier in the day revealed that Blin, who they had wanted installed on the board, was no longer seeking election.
McColl has warned that the battle for control of Rangers has only been postponed until the AGM, which is scheduled for October.