Ex-Rangers director Paul Murray demands fiscal transparency
Last updated on .From the section Rangers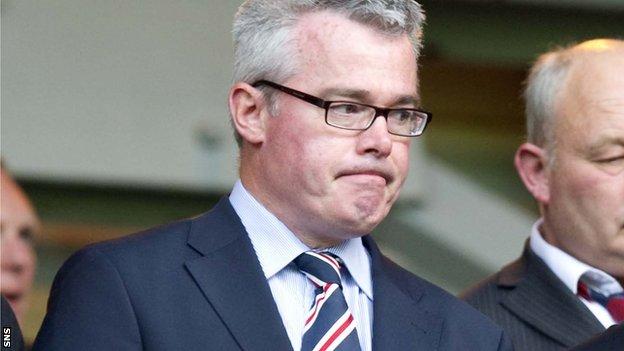 Paul Murray has told BBC Scotland the current board at Rangers needs to demonstrate financial transparency.
"This is a board - by their own admission - raised about £50m or £60m pounds and there's only £10m left," said Murray.
"You can see why investors who put £17m into the club are concerned."
The group, which includes businessman Jim McColl, had demanded that directors Brian Stockbridge and Bryan Smart should stand down at Ibrox and wanted accountant Frank Blin and Murray appointed to the company's board.
Murray was previously a non-executive director on the board of The Rangers Football Club PLC - which is currently undergoing liquidation proceedings - from September 2007 until May 2011.
On Friday, Rangers chief executive Craig Mather accused the shareholders of lacking vision, investment or a plan, saying he hoped their decision to withdraw their demands would lead to "a period of calm and stability" to "continue the progress" of the club.
However, McColl warned that the battle for control of Rangers has only been postponed and Murray insists the group has always had the best interests of the club at heart.
"I spoke to Jim McColl and we're both very disappointed by Craig's statement," said Murray. "There's a lot of personal insults in there and I don't want to get involved in tit-for-tat.
"There's a lot of inaccuracies in Craig's statement. The first one is that people have to understand that this wasn't myself, Frank Blin and Jim McColl on some sort of wild goose chase trying to cause trouble.
"We were asked by shareholders representing almost a third of the shares to come forward. They had concerns about corporate governance and financial transparency at the club.
"This isn't about the three of us, it's about he investors who helped Rangers to go forward.
"There's more financial transparency and corporate governance in my golf club than there is at Rangers."
Murray also insisted that he was not concerned about any suggestions about his suitability to operate on the board of the club's parent company.
His bid to return to the club could face scrutiny under the Scottish FA's Articles of Association rules regarding fit and proper office bearers, as he was a director in the five-year period preceding the insolvency event suffered by the Rangers Football Club Plc in 2012.
The Scottish businessman was also part of the board that issued almost £50m in tax-free employee Benefit Trust loans to players and staff, which was subject to a First Tier tax Tribunal, and is currently undergoing appeal proceedings.
However, he claimed he had helped reduce the debts at Ibrox during his time there - and could do so again - encouraging Rangers shareholders to vote at the forthcoming annual meeting to affect change at boardroom level.
"I joined the board in 2007 and debt at that point in time was £35m," said Murray. "When I left four years later, the debt was £18m - it halved in those four years.
"We had won three SPL trophies and reached our first European trophy in 36 years.
"People go on about how bad the old board was and the EBT case, which pre-dated me joining the board and was signed off by Grant Thornton for 10 years.
"The last time I checked, Rangers won the case against HMRC.
"I'd like to ask Rangers fans the question: would they like to have the four years when I was on the board or the last two years of utter chaos?
"Let me diplomatically say this: I have no doubt that I am a fit and proper person to join the Rangers board, put it that way.
"I would encourage everyone who has shares to go along to the AGM, listen to the debate and vote for what they want and who they want on the board."