FA Cup game abandoned after brawl breaks out
Last updated on .From the section Football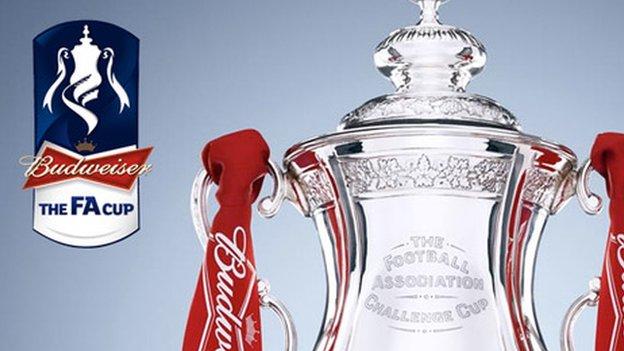 An FA Cup fixture between non-league sides Sleaford Town and Huntingdon Town was abandoned on Saturday following a mass brawl between players.
Sleaford were leading 2-1 in the first qualifying round when a Huntingdon player was sent off in the 87th minute following an altercation with a member of the hosts' management team.
That led to players from both sides clashing.
"Everyone dived in," said Huntingdon club secretary Russell Yezek.
"Our player was trying to take a long throw-in but the Sleaford manager walked across his path.
"He did it again and our player turned and pushed the ball into him."
A Sleaford spokesperson added: "There was a coming together between the two. It escalated from that."
The match referee will file his report on the game to the Football Association, who will make a decision on the result.
If one of the teams do reach the second qualifying round, they will be three rounds off the FA Cup proper.
Lincolnshire's Sleaford and Huntingdon of Cambridgeshire both play in the United Counties Premier Division - five tiers below the Football League.