Millwall v Derby: Nigel Clough pushed by fan
Last updated on .From the section Derby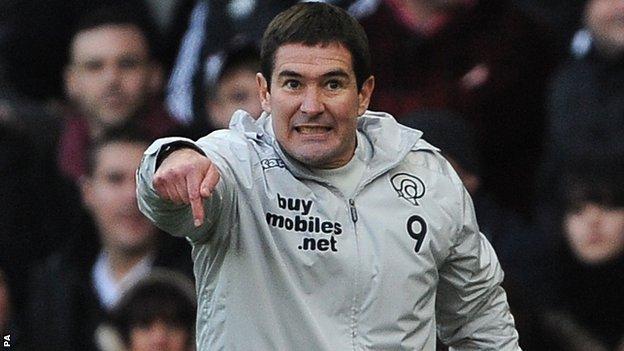 Derby County manager Nigel Clough was pushed by a supporter during his side's 5-1 away victory over struggling Millwall in the Championship.
A Lions fan ran towards the technical area and shoved 47-year-old Clough before running off.
Coach Andy Garner told BBC Radio Derby: "It's not very nice and obviously the guy didn't have anything in his hand but you just don't know, do you?
"He shouldn't be on the pitch in the first place. We will get on with it."
Garner added: "I didn't know where he [the fan] was going. I just saw him put his hand on the gaffer, which I wasn't very happy about.
"I was trying to get him off and then he ran off. But there was no chance of me catching him that's for sure so I did a couple of yards of a jog.
"It's a hostile place. The fans are passionate and he had his point to make. Luckily nobody got hurt."