Ashley Young: David Moyes in diving warning to Man Utd winger
Last updated on .From the section Football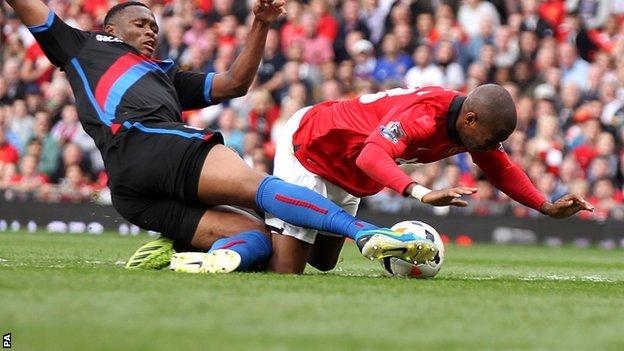 Manchester United manager David Moyes warned his players he will not tolerate diving following the incident which led to winger Ashley Young being cautioned in the 2-0 win over Crystal Palace.
Young tumbled over after a challenge by Kagisho Dikgacoi in the first half but replays suggested the England international initiated the contact.
Moyes said: "I don't want my players diving. It's not what I want.
"Dikgacoi definitely throws his leg out but Ashley put his leg into his leg."
Referee Jon Moss showed Young a yellow card, although he later awarded a penalty when the same two players clashed again, just before half-time.
That incident led to Dikgacoi being sent off, with Robin van Persie scoring from the resulting penalty. United went on to wrap up victory in the second half thanks to Wayne Rooney's free-kick.
Young has previously been in trouble for diving, with his former boss Sir Alex Ferguson "having a word" with him last season.
The ex-Watford and Aston Villa man was criticised by some for penalties United were awarded against QPR and Villa last season, prompting Ferguson to take action.
"He understands where we come from and I hope it makes a difference," Ferguson said in April. "He's going to have to be careful because people are scrutinising it now."
Ferguson's successor Moyes had sympathy for Palace boss Ian Holloway.
"I don't like the rule where every time it is the last man it means it is (a red card)," said Moyes. "I thought it was harsh.
"If I was Ian Holloway I would be disappointed. OK, it might be a penalty. But I don't think the boy made a challenge to wipe him out. Unfortunately that is the rule."
Holloway refused to discuss the issue, having already been handed a two-match touchline ban and £18,000 fine following his comments after a controversial defeat by Tottenham on the opening day of the season,
"My opinion doesn't count," he said. "I realise that now. All I can talk about is what led to it, which is us playing the occasion rather than the game.
"I will not get drawn into a situation where people have to make decisions and they affect me. Emotionally I am in the right place now.
"I would like to keep my money in the bank and pay for my own daughter's wedding this summer.
"I don't talk about other people's players. If you want to meet me down the pub later on I will tell you exactly what I think."