Jose Mourinho: Chelsea rue poor finishing against Everton

By Phil McNulty
Chief football writer at Goodison Park
Last updated on .From the section Football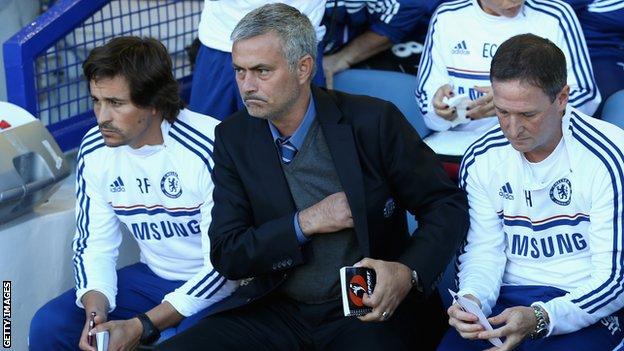 Chelsea manager Jose Mourinho blamed missed chances for their first Premier League defeat of the season at Everton.
"If you don't score a goal what you create means nothing. It is a simple story," said Mourinho.
"You have to put the ball in the net. Artistic football without goals is no good. We didn't have killer instinct."
Chelsea gave a debut to new striker Samuel Eto'o, but he was one of the culprits, along with another summer arrival, Andre Schurrle.
A disappointed Mourinho said: "You can't speak about sharpness. I don't think it is a question of sharpness.
"The ball Schurrle passed to Eto'o in the first half was a slow pass. If it was a fast pass, Eto'o scores with an open goal but Gareth Barry got back.
"These kinds of details are not about sharpness of players."
Mourinho was also unhappy with the build-up to Naismith's winner, with Ashley Cole conceding a needless free-kick and Everton gaining possession after goalkeeper Petr Cech rolled the ball out.
"We are not talking about young kids," added Mourinho, who returned to manage Chelsea in June.
"We didn't deserve to lose because we were the best team, because we played the best football, dominated the whole game, because we had 21 shots and we risked everything we could. In that sense it is fair to say we deserved to win the game.
"The other way to look at it is that a team that has 21 shots, some of them easy shots and easy situations to score and then don't score and makes a mistake in the last minute of the first half - maybe with that I should say we deserve to lose."