Gareth Bale debut: Spain's media on Real Madrid's £85m signing
Last updated on .From the section European Football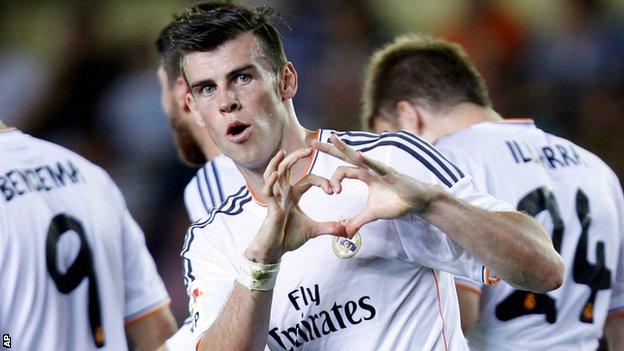 World-record signing Gareth Bale enjoyed a goalscoring debut for Real Madrid as his new side were held in a 2-2 draw at Villarreal on Saturday.
The Welshman, 24, netted a 38th-minute tap-in before he was withdrawn after 62 minutes.
But did the former Southampton and Tottenham player impress on his first appearance wearing the famous white shirt?
BBC Sport looks at the reaction of the Spanish media, British journalists and fellow footballers to the £85m man's opening game.
Spanish media

Daily football newspaper Marca said Bale had "found it difficult to get into the game", before "surfacing in the final stretch of the first half to score the equaliser".
"The Welshman's lack of match fitness told, but he still had the strength for a sprint of more than 50m and cross from the byeline," the report added.
El Pais was uncomplimentary about Bale's first-half performance, saying he had been "confused" until he scored.
"The ecstasy of a goal erased everything that had preceded it: a foul on Jonathan Pereira that was overlooked by the referee, a couple of crosses into nowhere from the right wing, where he was playing with his weaker foot, and ultimately, little connection with the game, until the spark provided by Carvajal's cross," it said.
"After that of course, he began to play on surer ground. Lifted by his successful goal debut, he tried something more typical of his repertoire: a potent charge down the far right, despite a month's lack of play."

ABC said that in the first half, Bale was "lost in a sea of yellow shirts".
"But he smelled blood and scored a tremendous strike that made a big dent in the home team's submarine," the paper said, in a reference to Villarreal's nickname, Submarino Amarillo - the Yellow Submarine.
La Razon's match report thought Bale had not "caught fire" while playing on the right in the first half.
"The giant from Wales wandered around midfield without focus and much in the way of prospects, infected by his team's sloppiness," it said.
"The Welshman barely played a role in the game and when he did, it was with over-hit attempts at goal and crosses destined for beyond the byeline."
However, after swapping positions with Ronaldo to appear on the right, "Bale almost immediately began to justify his cost".

La Vanguardia came to a similar conclusion. "The Welshman put in hard work and showed courage, but his position is still tripping him up," it said.
"He started on the right and it was immediately apparent that he was not comfortable. He then switched places with Ronaldo, but didn't quite manage to excel with his usual ease."
British journalists
Daily Mirror chief sports writer Oliver Holt: The phrase 'peripheral figure' could have been invented for Gareth Bale for most of that first half. Then he scored. For a bloke who's barely played since last season, scoring on your debut after £86m move = very good night's work.
The Observer's Sid Lowe: "There was a moment's pause, as if waiting for confirmation. Yes, what they thought had happened had happened. Gareth Bale, the most expensive player in history, had scored on his debut for Real Madrid. The grin said it all."
The Independent chief football correspondent Sam Wallace:"The goals that brought him to the attention of the world tended to be thumped in from distance or came at the end of those lung-busting runs from deep that would leave defenders gasping in his wake. Bale forced one in from inside the six-yard box and then tripped over the goalkeeper. You can only imagine it must have felt just as good."
The Daily Telegraph's Jim White: "It was a point, you suspect, that will not live as long in Madrid's collective memory as the identity of the scorer of their first goal. Galactico Gareth has arrived."
Former players
Ex-Real Madrid and England striker Michael Owen: "Not his greatest performance ever but Gareth Bale is off and running with a goal and an hour under his belt. #goodstart"
Former Barcelona and England striker Gary Lineker: "Great start for Gareth Bale to score on his Real Madrid debut."
Manchester United defender Rio Ferdinand: "Villarreal is a hard place to play let alone for your debut as most expensive player in the world! One game - one goal. Tap in, they all count! Hasn't had a kick up until then. Decisive."