Jonjo Shelvey has 'no regrets' over leaving Liverpool for Swansea
Last updated on .From the section Football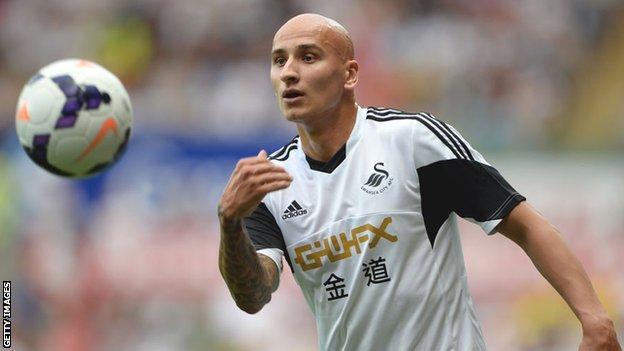 Jonjo Shelvey says he has no regrets and nothing to prove as he prepares to face Liverpool for the first time since leaving the club for Swansea.
Shelvey says he was given the chance to stay and fight for a first-team place by Anfield boss Brendan Rodgers, but wanted regular football.
"I don't regret leaving because I'd probably be on the bench [at Liverpool]," he said.
"It was a massive decision, but I feel that I've made the right choice in coming away."
Liverpool face Swansea at the Liberty Stadium on Monday, and Shelvey admits it will be strange playing against former team-mate Steven Gerrard.
The former Charlton midfielder said: "He's the best player I've ever played with, along with [Liverpool striker Luis] Suarez.
"He's the most complete midfield player England's seen, in my lifetime anyway, and he's been first class with me.
"It will be difficult playing against him - I'm not going to lie, I can't hide that.
"But you will only know how good you are when you go up against someone like that so I'm looking forward to it, but it will be a challenge."
Liverpool go into the game as the only team in the Premier League with a 100% record and third in the table behind Arsenal and Tottenham, who have both played a game more.
Swansea have taken only three points from their opening three games, after losing to Manchester United and Tottenham.
But Shelvey, limited to 17 league starts in three years at Liverpool, has been in the starting XI in all three.
He said: "I wasn't pushed out. Brendan said that I could stay at Liverpool and fight for my place and people say I should have done that.
"But it's not in my character to sit around and wait for an opportunity, I want to play now and make a name for myself and get that consistency that young players need.
"I don't think I've got a point to prove to Brendan Rogers, I'm not going to go out there and try these Hollywood passes.
"I'm just going to go out there and just play my normal game and get myself settled into the game and not let the occasion get to me.
"This game's not about me anyway. It's about Swansea versus Liverpool - and Swansea getting three points."