Tottenham to issue questionnaire over anti-Semitic term
Last updated on .From the section Football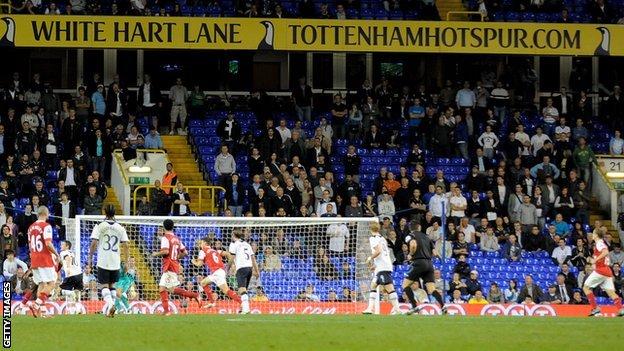 Spurs will issue a questionnaire asking fans if it is time to stop singing chants described as anti-Semitic.
The club have a strong Jewish following and have been the target of abuse from opposition fans, but some Tottenham supporters use the terms "Yid", "Yid Army" or "Yiddos" themselves.
The Football Association said those using the term could be prosecuted.
Spurs told BBC Sport the questionnaire was part of their ongoing consultation with fans on the issue.
Following the FA's statement last week, Tottenham said use of the word was "a defence mechanism in order to own the term and thereby deflect anti-Semitic abuse", but "consideration should be given to the appropriateness and suitability of its continued use".
It added: "Our position on this topic is very clear. The club does not tolerate any form of racist or abusive chanting."
Tottenham fans were twice subjected to racially motivated attacks during their Europa League campaign last season, leading to questions whether the chants were counter-productive.
Tottenham Hotspur Supporters' Trust (THST) chairman Darren Alexander said: "There is a document that Spurs will be sending out to season-ticket holders in due course.
"It's a questionnaire, and basically what the club want to ascertain is do the fans think now is the right time to stop using this identity.
"If that comes back and a clear majority of fans think, 'yes, now is the time', then we move forward and we will work actively with the club if they want us to."
During Tottenham's 2-0 win over Norwich on Saturday, Spurs fans reacted defiantly to the FA's statement by chanting "Yid Army" and "We'll sing what we want".
The same happened last season after Peter Herbert, chair of the Society of Black Lawyers, threatened to report anyone using the phrase to the police.
THST is unhappy with the way English football's governing body has brought the issue back onto the agenda, and insists supporters should not be "forced" by the FA or Herbert into dropping the chants.
"If Spurs fans genuinely are going to stop using this word then it should be our decision," Alexander said.
"We sincerely believe that no Spurs fan ever uses the Y-word or shouts 'Yid Army' in an effort to offend anyone."
The FA declined to comment when Alexander's claims were put to it by the BBC.