Mark Halsey fears an under-pressure official could take own life
Last updated on .From the section Premier League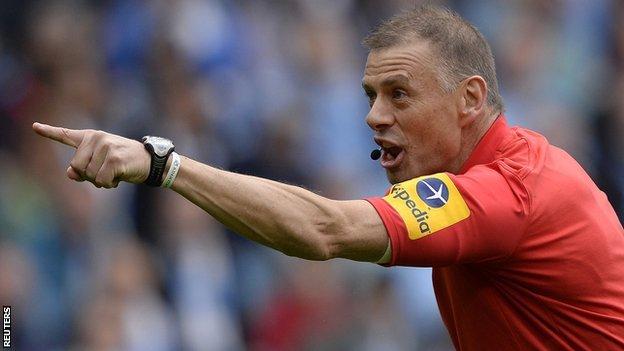 Former Premier League referee Mark Halsey fears an official may take their own life if they do not get more help to deal with the pressures of the job.
Halsey, 52, retired at the end of last season, and made the claim in his book, which is being serialised in the Sun.
"It will not be long before a referee has a nervous breakdown," he said.
"I also believe that if we do not do something to help referees with mental health and stress issues, then we could see a suicide."
In the serialisation, Halsey highlighted the case of Bundesliga referee Babak Rafati, who he explained had been found in a bath with his wrists slit before undergoing treatment for depression.
Halsey complained to police after being abused on social network website Twitter last season after officiating a 2-1 win for Manchester United at Liverpool.
He sent off the Anfield side's midfielder Jonjo Shelvey and awarded United a late penalty from which Robin van Persie scored the winner.
The tweets referred to his treatment for throat cancer in 2009.
Halsey said he received support from some Premier League managers over his performance in that game, although feels the organisation that looks after officials - Professional Game Match Officials Limited - could have done more.
"I got little support from my bosses apart from a call from Mike Riley, the head of the PGMOL, and one from the Select Group manager Keren Barratt asking if I wanted to come off my next game at Southampton," said Halsey, who returned to refereeing in March 2010.
The BBC has asked the PGMOL for a response to Halsey's claims but it is yet to respond.