Clubs snub Sierra Leone Premier League return
By Mohamed Fajah Barrie
BBC Sport, Freetown
Last updated on .From the section Football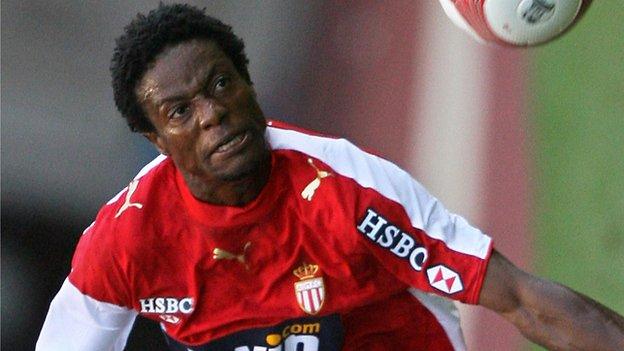 Sierra Leone clubs have continue to boycott the Premier League as only one in five matches was played on its return last weekend.
New Sierra Leone Football Association (SLFA) president Isha Johansen told BBC Focus On Africa programme two weeks ago that all the clubs had agreed to play the league.
But the 10 clubs are still refusing to play until acting secretary general Abdul Rahman Swarray and former spokesman Sorie Ibrahim Sesay are sacked.
Swarray and Sesay have both been accused of allegedly falsifying the names of some delegates in the elective congress a month ago in order to form a quorum to give legitimacy to the Johansen-led executive.
Both have, however, denied any wrongdoing.
The spokesman of the aggrieved parties and clubs, Siraji Rawlings Rawlings Kamara told BBC Sport their decision not to continue playing the league still stands until their key demands are met.
"We stand firm on our decision and we can only honour league fixtures if Swarray and Sesay are sacked," said Kamara, who is also the general manager of one of the clubs Central Parade.
"We'll not compromise our stance because these two people are greatly responsible for where find ourselves today."
But the Chairman of the Premier League Board (PLB) Ismail Koroma told BBC Sport that the league will continue while negations with the aggrieved clubs are ongoing.
He said: "As PLB we have a mandate to run a complete league and we want to fulfil our mandate. We're not involved in the SLFA politics, so that's why we're calling on all the teams to play.
"I must confess that the situation is serious and I'm disappointed that things are not going the way it should go.
"That is why we've summoned an emergency meeting on Monday to review the weekend matches and make certain decisions.
"We'll also continue to meet the clubs officials for them to see reasons to honour their fixtures."
BBC Sport also understands that newly appointed spokesperson of the SLFA, John Lappia Konteh, is trying to mediate to bring to an end the stand-off between the SLFA executive and the clubs.
Initially the clubs boycotted the league in protest against the decision of then-SLFA Normalisation Committee to disqualify Sierra Leone football legend Mohamed Kallon, Rodney Michael and Foday Turay from contesting the FA's Presidential election that brought Johansen to power.
But after Fifa and the Confederation of African Football endorsed the elections that brought the Johansen-led executive to power, the clubs decided that Swarray and Sesay must go before they return to league action.