2022 World Cup in Qatar must be played in winter - Fifa medic
Last updated on .From the section Football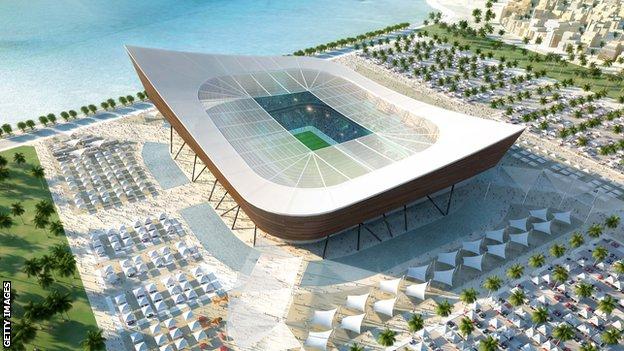 The 2022 World Cup in Qatar must switch to winter, according to Fifa's own medical chief.
Michel D'Hooghe, the chairman of the Fifa's medical committee, will advise that the risks posed to supporters by extreme heat are too great.
President Sepp Blatter already supports when temperatures can reach as high as 50C in Qatar.
"The World Cup is about more than games and players," said D'Hooghe.
"I am sure the Qataris have the technical skill to organise a tournament where teams could play and train in a stable, acceptable temperature, but it's about the fans.
"They will need to travel from venue to venue and I think it's not a good idea for them to do that in temperatures of 47C or more."
The Premier League which would disrupt the English domestic season.
However, the European Club Association, which represents some of the continent's top teams, has said that while the Football Association's chairman Greg Dyke has said that
Hassan al-Thawadi, the head of Qatar's 2022 bid, has rejected suggestions that the tournament should be moved to another host nation rather than be rescheduled.
"I'd like to assure everybody that it is not an impossibility to host the World Cup in Qatar in the summer,"
"A summer World Cup is what we bid for - it's the original plan - and we are going for it and we are moving ahead with it."
Fifa's executive committee is expected to agree in principle to move the World Cup to the winter when they meet in early October before starting a six-month exercise to work out how it will affect the international calendar and domestic leagues.