Scott Laird: Preston full-back closing on return to best form
Last updated on .From the section Football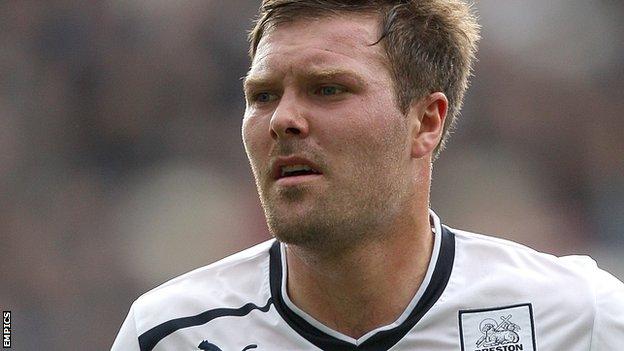 Full-back Scott Laird says he is close to rediscovering the form he showed before a broken leg prematurely ended his first season at Preston.
Laird missed six months of the 2012-13 campaign and has played five times for League One side North End this term.
"I'm slowly getting there," the 25-year-old told BBC Radio Lancashire.
"I'm working hard in training and in games to get where I was last season. I keep asking the fans to be patient with me, but it's coming."
Laird, who in 2012-13 after continued: "I haven't been at my best so far this season and it's taken me a while to get going, but it's good to play games and get that match fitness.
"I'm being pushed all the way by [fellow full-back] David Buchanan so I've got to keep it going.
"Whoever plays, we'll support each other because we want to be in the Championship at the end of the season and that's all we care about."
Preston maintained their unbeaten start to the league season with a managed by ex-North End boss Graham Westley, on Saturday.
Laird, who scored against his former club, admitted he was caught up in the emotion of finding the net for the first time since his prolonged spell on the sidelines.
"I felt almost back to my best on Saturday," added Laird, who spent more than four years at Stevenage.
"Usually when you score against your old team, you don't celebrate. It wasn't because it was against them.
"I celebrated because I'd been out for so long, I had all that emotion going through me and it was nice to get it all out."