Rangers' Ian Black apologises to fans over gambling ban
Last updated on .From the section Rangers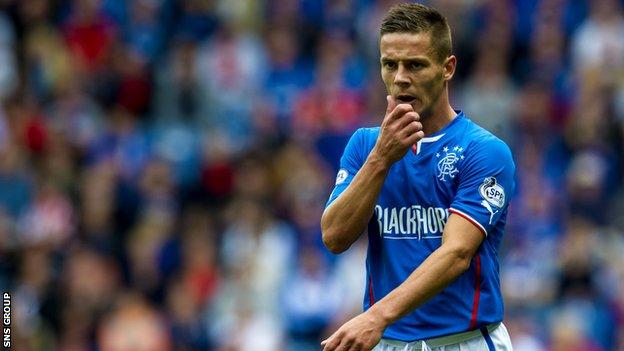 Rangers midfielder Ian Black has apologised to the club's supporters following his gambling ban.
"I apologise to everybody and I need to apologise to the fans," he told Rangers TV.
"They've backed me and the fans have been good since this came out."
Black was accused of gambling on 160 matches over a seven-year period, including betting against his own team on three occasions.
The former Inverness and Hearts midfielder is serving an immediate three-game ban, while the rest is suspended until the end of the season.
He said: "People are saying that they can't trust me.
"But people who know me and supporters who watch me every week know that I give 100% every game.
"Even in training, the boys have come out and openly spoke that they can trust me fully. The manager's backed me and the club's backed me.
"There's a lot of players out there still doing it. I could sit and name players but I'm not going to do it.
"I broke the rule and deserve the punishment; I shouldn't have done it."
Rangers boss Ally McCoist has indicated he will select Black in future,
"The decision has been made and he's been punished," McCoist said last week. "Now we just move on. That's it for me, the issue is closed."