Robbie Savage: Philippe Coutinho holds the key for Liverpool
Last updated on .From the section Football

In his regular BBC Sport column on football tactics, Robbie Savage watches Liverpool return to the top of the Premier League table with a hard-fought draw against Swansea.
Swansea midfielder Jonjo Shelvey will grab the headlines after playing a part in all four goals in an entertaining 2-2 draw against his old club, and he deserves credit for not letting his head drop after making some costly errors.
But we saw at the Liberty Stadium how important Philippe Coutinho has been to Liverpool's good start to the season, because they were not the same side when he went off injured.
Coutinho holds the key for Liverpool
Liverpool will have Luis Suarez back from suspension next week but they will still be hoping that Coutinho's shoulder problem is not serious.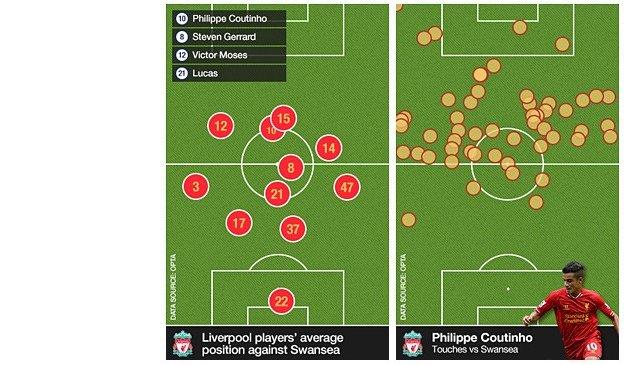 They missed him massively when he had to be replaced after 55 minutes because he was the linkman for so many of their attacks - picking up the ball wherever he was deep in Swansea's half and looking to play it forward.
When he went off, Liverpool stopped doing that - they played 48 successful passes (out of 66 attempted) in the final third during the first half and only four (out of 11 attempted) after the break.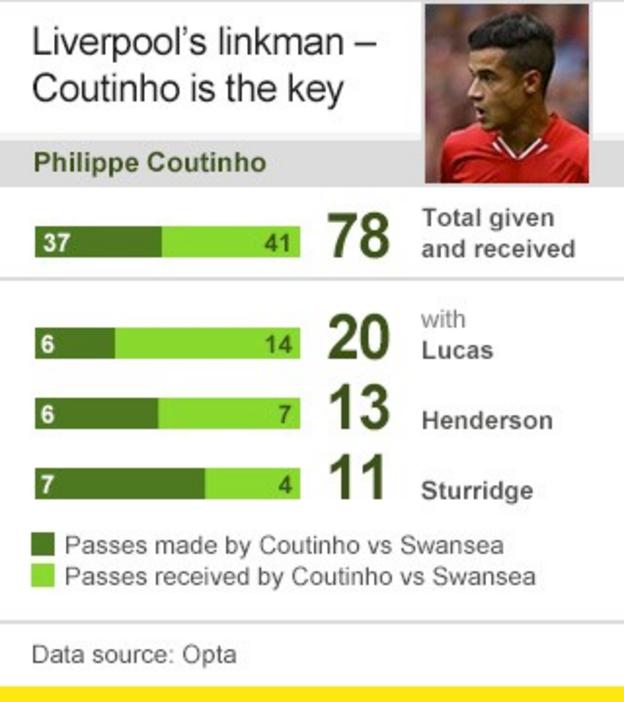 His form means Brendan Rodgers will have a dilemma when Suarez returns from his suspension, which ends against Southampton at the weekend and could see him return against Manchester United in the Capital One Cup.
I think he has to play Suarez in behind Sturridge but to do that, he would have to push Coutinho out wide, and then try to fit in Victor Moses as well because his pace adds another dimension to their attack. Then you have players like Raheem Sterling on the bench trying to get in too.
It is a good problem to have, and we are seeing how Liverpool are developing under Rodgers, with more attacking options than he had last season.
Shelvey did not stop after double shocker
Coutinho's absence was not the only reason the pattern of the game changed in the second half.
Swansea were much-improved - they started playing higher up the pitch and took the game to Liverpool - and not many teams will enjoy as much possession as they did against Rodgers' side - 69.7% in the second half, and 58.7% overall.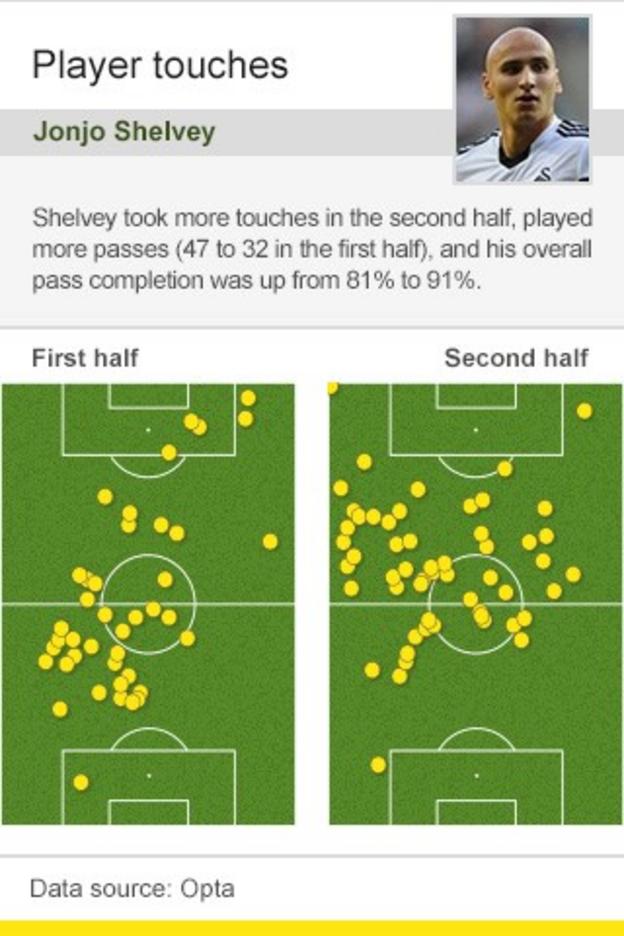 After having a complete nightmare in the first half, giving away two goals after scoring Swansea's opener, Shelvey showed great courage to continue to look for the ball.
He kept trying to get involved in every area of the pitch and he got his reward with the flick to set up Swansea's equaliser.
I have seen team-mates and opposition players go into hiding when they have made mistakes like he did. I have been there myself, and you are thinking to yourself 'please do not pass me the ball'.
After Shelvey's bad pass that culminated in Liverpool's second goal, Victor Moses had to break forward from the halfway line. He had a long way to go but, for all that time, Shelvey would have been praying 'don't score'.
When a goal goes in that is so blatantly your fault, you just want the ground to open up and swallow you.
After that, some central midfielders would stop asking for the ball from their defenders and turn their backs on them, but Shelvey kept doing that, and got forward too.
Liverpool have front five - and leave five back
We did not end up seeing much of Liverpool as an attacking force in the second half but early in the game we saw far more of how Rodgers wants things to work when his side go forward.
I interviewed Rodgers for Football Focus at the start of the season and he told me the middle of the park is vitally important to him - that is where games are won and lost.

He sets up his side to get control of midfield, and the two men he relies on to do that are Lucas and Steven Gerrard, who always sit in front of the defence, come what may.
Against Swansea, Liverpool's 4-2-3-1 formation often became more of a 4-2-2-2. Lucas and Gerrard sat deep in midfield, then came Jordan Henderson and Coutinho, with Victor Moses almost as advanced as Sturridge, but wide on the left rather than in a traditional attack pairing.
When his side attacks, Rodgers likes to have five men forward and five men back. That means Lucas and Gerrard staying deep as well as the two centre-halves and one of the full-backs.
The other five can do what they like - which is what we saw against Swansea in the first half at least.