Australia may seek 2022 Fifa World Cup compensation
Last updated on .From the section Football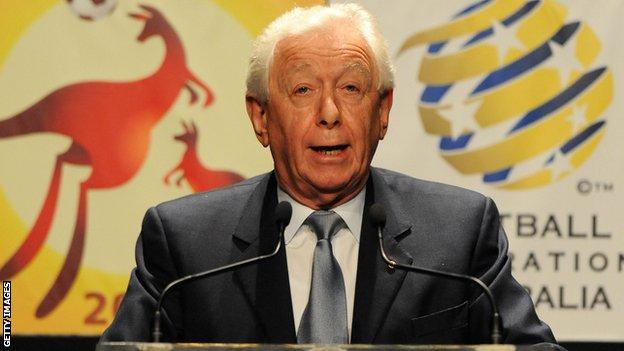 Australia's soccer chief Frank Lowy says his country's Football Federation (FFA) may seek compensation if the 2022 World Cup is switched to the winter.
Australia was one of four countries that lost out to Qatar, despite spending £25.27m on its bid.
Qatar has temperatures of 50 degrees Celsius in June and July, so
"Australia invested heavily in the World Cup process," Lowy said.
"Since December 2010, Australia has been careful not to let its misgivings about the process be interpreted as sour grapes.
"But now, with increasing speculation about a change that will impact on us as one of the bidding nations, and because our competition will be affected, we have made our position public."
Responding to the call, Fifa has said there are "no grounds" for compensation.
The governing body insisted that as part of the bidding process, all bidders had to accept that there could be a change to the schedule at Fifa's behest.
However a FFA statement asked Fifa to look at awarding "just and fair compensation" to those nations that "invested many millions, and national prestige, in bidding for a summer event".
Qatar beat Australia, Japan, South Korea and the United States to win the right to host the 2022 World Cup.
Lowy, the billionaire owner of the Westfield shopping centre empire, is also urging Fifa's executive board to not make a quick decision about moving the tournament to a date when the weather will be cooler.
He said: "Better to let the independent investigative process run its natural course and then, with those issues settled, make a clear-eyed assessment about rescheduling and its consequences."