Dunfermline need £150,000 to survive the season
Last updated on .From the section Football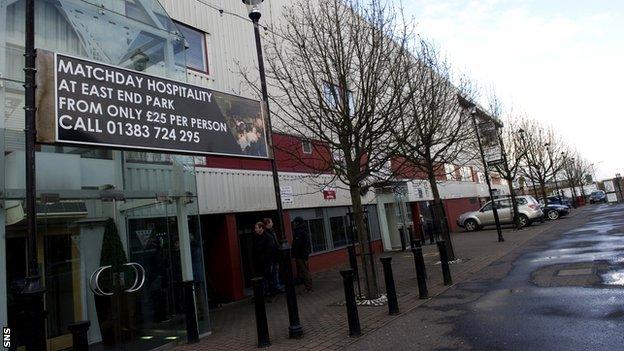 Dunfermline Athletic need a further £150,000 cash injection from fans to survive the season, the club's prospective owner has warned.
"We all need to be under no illusion that our club is now fixed," Pars United's Bob Garmory has said.
"The club was an hour-and-a-half from being liquidated, but even now it is still on a life support machine."
Dunfermline remain under the control of administrator BDO despite a company voluntary arrangement being agreed with the club's creditors in July to allow Pars United to buy the Scottish League One club.
Pars United is confident that details required to complete the takeover will be finalised by the end of September.
But Garmory told Dunfermline's website: "The club is still in a very distressed state and it will take the rest of the current season to get a full and robust handle on all the day-to-day matters and to start to run the club both efficiently and, importantly, at a level appropriate to the level we're competing at.
"The club is still in a very precarious position and, the more time we spend looking at the club and how it has been run in the past, the more we realise that there is going to be a lot of tough decisions required and a lot of change around East End Park."
Staffing levels would need to be reduced and Ross McArthur from the community group said that much of the off-field work would have to be done without pay, with a "volunteers' register" to be set up within weeks.
"We are fortunate to have several experienced business people within Pars United who have agreed to take on part-time executive roles within the club for no salary, including that of general manager," he said.
"In addition, it is vitally important that everyone continues to contribute towards raising funds for the club this season."
Pars United's Ian Hunter explained the complications involved in a takeover that involved two separate companies in liquidation - for the football club and the stadium.
"In terms of ownership of the club, it's difficult to say exactly when control will pass to Pars United," he admitted.
"But the fact is we are a considerable way through the process of finalising two separate, but linked, purchase contracts, so we are hopeful it won't be too much longer.
"The first process is the one to buy the club from BDO and the second one is to buy the stadium from KPMG."