Laudrup relishes Swansea Europa League challenge with Valencia
Last updated on .From the section Swansea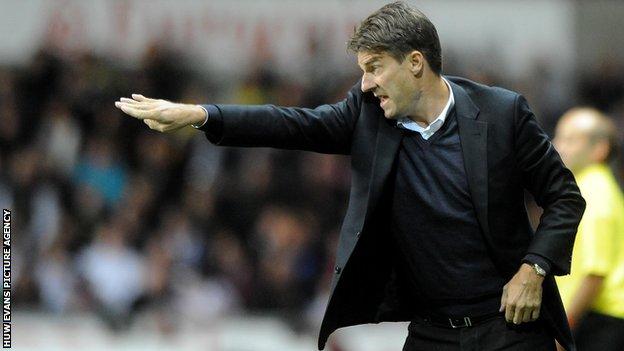 Michael Laudrup says he is looking forward to the prospect of Swansea City playing Valencia, who he considers to be one of the biggest forces in Spain.
The Swansea manager, who played for Barcelona and Real Madrid, describes Valencia as the "third team" in Spain.
The Welsh side face Los Che in their first Europa League Group A game at the 55,000-capacity Mestalla stadium on Thursday.
"Valencia is a huge team in Spain," said Laudrup.
"We are talking about, what has for many years, been the third team of Spain behind the two big ones [Barcelona and Real Madrid].
"Maybe in this moment Atletico Madrid is just above, but still they are a top side.
"Having said that, they have had a very rough start [to the season], with a new manager [Miroslav Djukic], they have sold a couple of their top players, like [Roberto] Soldado to Tottenham.
"They have had a tough start, with only one win in four games and on Sunday they play Sevilla at home.
"It is a difficult moment for them, but that is not my problem. It is their problem.
"We have to do our best and we have a good chance."
Valencia have a real pedigree in Spain and Europe, having won La Liga titles in 2002 and 2004, reached the Champions League final in 2000 and 2001 and lifted the old Uefa Cup back in 2004.
But the Spanish side have won only one of their first four games domestically and are languishing in 16th in the table at the start of this season.
Like their opponents, Swansea have struggled early on in the league but have now climbed to 13th and travel to Spain after an impressive performance in the 2-2 draw against Premier League leaders Liverpool at the Liberty Stadium on Monday.
Laudrup wants the Swans to take advantage of Valencia's current form and the pressure they will be under to produce a performance in front of their own supporters.
"They [the Valencia supporters] always want the best and they ask for it, they really demand it from the players and managers," said Laudrup.
"They have to be up there, nearly competing with Barcelona and Real Madrid.
"Let's see how they react, in their minds, even if we are in the Premier League Valencia is way beyond Swansea.
"At least that is what they think. With all these small things and the moment they are in, let's see if we can take advantage of it."
Swansea qualified for the group stage of the Europa League after beating both Malmo of Sweden and Romanian side Petrolul Ploiesti in the qualifying rounds.
The Swans entered the Europa League by winning the Capital One Cup with a 5-0 victory over Bradford City at Wembley in February.