Tottenham boss Andre Villas-Boas criticises League Cup schedule
Last updated on .From the section Football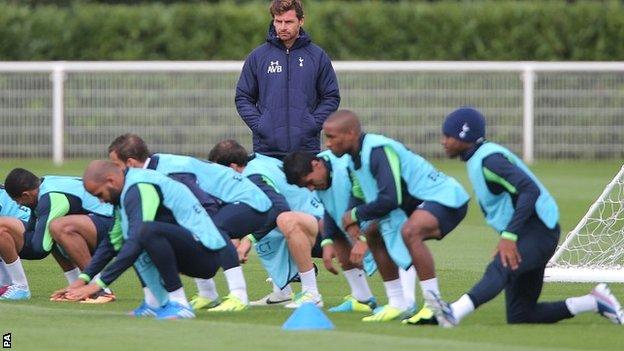 Tottenham manager Andre Villas-Boas says the Football League is "putting players' careers at risk" with its scheduling of the League Cup.
Spurs play in the Europa League on Thursday, visit Cardiff in the Premier League on Sunday and then face a League Cup trip to Aston Villa on Tuesday.
"How can a game be scheduled after two days, immediately putting careers at risk with injuries?" Villas-Boas asked.
The Football League has yet to respond to Villas-Boas's comments.
Tottenham, who have spent around £105m on seven new players to compensate for the loss of Gareth Bale to Real Madrid for 100m euros (£85.3m), have made a strong start to the season.
Narrow victories over Crystal Palace and Swansea were followed by a defeat against north London rivals Arsenal, but the Lilywhites beat Norwich 2-0 on Saturday.
Spurs reached the quarter-finals of the Europa League last season, but many saw their regular Thursday night fixtures as a major reason why they failed to gain the top-four Premier League finish needed for Champions League qualification.
A comprehensive 8-0 aggregate play-off win over Dinamo Tbilisi put them through to this year's group stages, and their Group K fixtures begin with a match against Tromso at White Hart Lane.
Villas-Boas is unhappy that his team have to play their League Cup tie at Villa Park on a Tuesday when five other ties are being played the following day.
"I find it absolutely incredible that we have to risk injuries to our players in a game that they play on that Tuesday," the Portuguese said.
"The problem is that it puts the players in a very difficult situation.
"It's also nothing new in English football. I had the same thing once with Wolverhampton and Chelsea, when I was at Chelsea, and I spoke the same way.
"The second day of recovery is the most dangerous day for a player to pick up an injury. If this is not taken into account I think it's bad.
"Other things have to be respected - televised games, fixture organisation, the police - comes into account because of the fixtures that are being played on the Tuesday and Wednesday.
"But the problem is that in the end Tottenham was chosen to play on Tuesday, with only the Monday to recover from the last match, and that puts us in a very difficult position."