Britt Assombalonga: Peterborough United forward has split loyalties
By Chris Osborne
BBC East Sport
Last updated on .From the section Football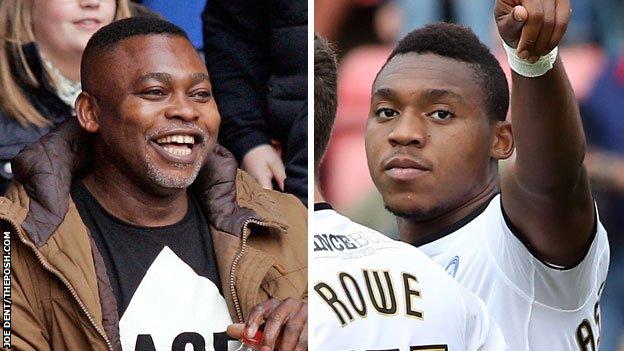 Fedor Assombalonga made a last-minute decision to jump on a coach to Bristol City last weekend - and he was richly rewarded for doing so.
The former Democratic Republic of Congo international saw his son Britt score twice
Assombalonga Jr has made a remarkable start to life with Posh, scoring seven goals in nine games to win the Football League's Young Player of the Month award for August.
And while Britt has a shiny new trophy to take home, dad's bounty for an impromptu trip from north London to the West Country was a ticket back to the capital.
"He rang me up to say he wasn't too far from the game, 'I'm on the coach coming to Bristol'," 20-year-old Assombalonga told BBC Sport, recalling last Saturday's away day at Ashton Gate, which saw him receive a yellow card for being human enough to want to celebrate his first strike with his father in the stand.
"I thought 'why he didn't take the train?' So I bought his train ticket back, I didn't want him to get the coach all the way back."
Fedor's decision 19 years ago to take his family, including eight-month old Britt, from the nation then known as Zaire to London would be a small step towards a promising football career for his son.
"They moved to give me and my siblings a better life," said Britt, who has never been back to his homeland, which was renamed the Democratic Republic of Congo in 1997 following the overthrowing of president Mobutu Sese Seko.
"All of my trophies are at my mum's house. My mum and dad are chuffed with everything I've done. They won't let me take them because they want them for their memories as well."
Brought up in Swiss Cottage, Assombalonga became the 50th product of Watford's Harefield Academy to make his first-team debut for the Hornets.
Loan stints at non-league Wealdstone and Braintree honed his talent and he then caught the eye during a spell with Southend with 16 goals in 49 games, including a run of 12 in 20.
It was enough to persuade Peterborough to who, if not burdened enough by the challenge of trying to fire Posh back to the Championship, is having to contend with the attempts of his dad and team-mate Gabi Zakuani to persuade him to commit his international future to Congo.
Torn by unrest and war for decades, the central African nation has become more stable in the past 12 months.
"I want to see where I started off," said Assombalonga.
"I wanted to go a year ago but I had to wait because of all the disruptions that were happening there. But now it's settled down they say I can go whenever I like.
"My dad used to play football back in Congo. He played for the national team. Gabs knows about him and he's also in my ear.
"But he's still telling me now it's my decision who I play for.
"You never know. We'll have to see what happens. Congo will always be in my heart."
By moving to Peterborough, Assombalonga was joining a club with the expectancy of having a big-scoring striker -
"He has to take a lot of credit for the way he's gone about it," said Peterborough boss Darren Ferguson.
"It was a large amount of money we spent on him - we had to do it to get him in the door."
It took just nine minutes for Assombalonga to open his Posh account, scoring the only goal in
"Sometimes you've got to look at your career. You don't want to stay in the shadows," he said of leaving Watford, who have a clause in the frontman's contract giving them first refusal should he ever move on.
"I wanted to express myself and Peterborough came in for me. It wasn't a hard decision. The goal on my debut, that was the best ever, that's where it started off for me.
"All strikers want to think about is scoring goals. [Assistant manager] Kevin Russell will tell me before games, 'goals, just think about goals'."
And for Assombalonga, thinking has become believing.