The keeper who saves money and shots
By John Bennett
BBC World Service Sport
Last updated on .From the section Football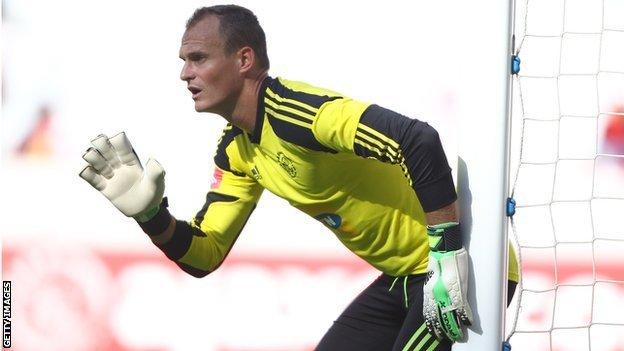 One of South Africa's top goalkeepers is not only saving shots, he's also started saving his team-mates money.
Ajax Cape Town's number one Sean Roberts now looks after the finances of nearly 40 players in the top flight of South African football.
The 31 year-old trained to be a financial advisor after being told he would never play again due to a knee injury.
But against the odds, he fought back to resume his playing career.
Roberts now combines financial advice with professional football and recently earned a call-up to the South Africa squad.
"80% of South African footballers, 5 years after they finish playing are completely bankrupt," Roberts told BBC Sport.
"The players I work with are my friends, I want to see them succeed I want to see them OK.
"It's a responsibility but having said that it's great to see the guys have one less stress. It let's me take over that stress for them."
Roberts knows from personal experience how crucial it is for players to prepare for life after football.
After being diagnosed with patellar tendonitis in his knee, a number of medical experts tried to convince him that his career was over.
"I get emotional even when I think about it now. I was in a horrible place. It was just before I got married as well," he continued.
"It just shows that some of these guys that study textbooks and call themselves doctors and surgeons, are absolutely clueless.
"I found someone who believed in me, who believed he could get me right and he got me right in three months.
"Before that I was with these other doctors for 2 and a half years and they couldn't find the solution."
"Ajax were getting ready to pay me out and let me go.
"I said give me one more chance, give me three months to get ready, I'll pay for the rehab myself and I did.
"Now here I am, I've just signed a new contract and after that I got a South Africa international call up."
As well as fighting to save his football career, the goalkeeper also used his time on the sidelines to go back to education.
And it's there that he began the journey to becoming a financial advisor.
"You always have to update your qualifications in this industry so it's an ongoing process but the two years I was out for I focused a lot on my rehab and a lot on my studies and obviously talking with players, taking flights to Johannesburg to make contacts."
"I've got a couple of players in Europe as well which is great. It's coming together slowly, it is a process but I think the next two or 3 years it'll be great."
Roberts says he chose to work with footballers because he's been shocked by the the lack of financial knowledge of some of the players he's met in the game, who have been earning big money.
"You know a lot of the guys, especially in Africa they're not educated, so what do they after football?" he added.
"So I'm just trying to say, well if you're not educated, let me look after your money so once you do stop playing you've got something to fall back on at least.
"Even in Europe, it's not just in Africa. The problem is with these guys, they'll sign a two or three year contract and they can't see beyond those two or three years.
"They see a nice pay cheque now and live in the moment which is always nice but you've got to prepare for the worst and that's why I've come on board.
Another problem he has noticed is the growing number of hangers-on footballers have to deal with in the modern game.
"Agents are the biggest problem with that. Some agents, not just here but in Europe are absolute sharks," he said.
"Giving players the wrong advice or doing the deal and never hearing from them.
"That also might be something I'll be looking into doing in the next 4-5 years, becoming an agent and including the finance part.
"Looking after the players in every aspect, financially, doing the deals and everything in their life.
"I think there's a big gap in the market for a very, very good agent.
So what advice does he give to the players he works with?
"Saving money takes a lot of discipline it sounds easy but it's not," he pointed out.
"I try to get them to invest 10 to 20% of their gross income every month - and if they start very young, 19 or 20 years old, by the time they're 30 or 31 they've got a massive nest egg to fall back on."
"It's just a mindset, it's about changing that mindset for them to realise it. And it's working, it's working slowly but it's working and it's exciting.
"Some guys don't go for it, some guys would rather drive the big BMWs and not look to the future and I'm trying to change that mindset and it is a process, it takes time."