Nigeria sports minister delays implementation of code of conduct
By Oluwashina Okeleji
BBC Sport, Lagos
Last updated on .From the section Football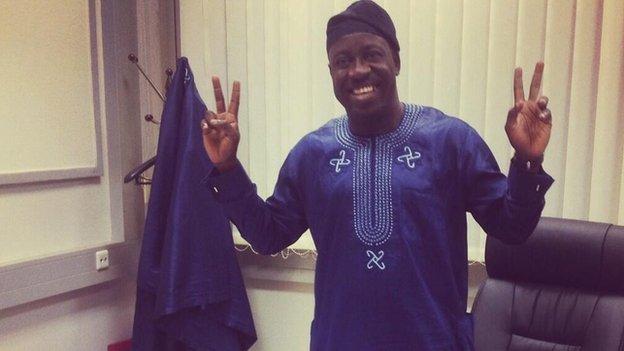 Nigeria's sports minister Bolaji Abdullahi has delayed the implementation of a 'code of conduct' for Super Eagles players on international assignments.
In August, a six-person panel drafted a code of conduct and presented their findings on the row to the sports minister in Abuja.
The minister says the panels recommendations will be implemented, but warned bad timing could create more disaffection, distraction and failure.
"The panel's report is very strategic and as soon as we are done with the World Cup qualifying matches, we will implement the report fully," he explained.
"We don't want to introduce the report now so that it does not distract us from the work we have at hand now.
"We will continue to manage it. It is after the World Cup qualifiers that we plan to put in place the structures that can provide the final solution to it."
Julius Ogunro, special assistant to the sports minister, said there is no official commitment to back down on decision to slash bonuses paid to the players in the national team.
"The players were paid $5,000 each for the win against Malawi and there was no problem," Ogunro told BBC Sport.
"The minister has taken this step to prevent distractions as he understands the huge task before the team as they prepare for their World Cup play-off.
"There is no change on the bonus agreement. Implementation of the panel recommendation will be done at the end of the qualifiers."
Back in June Nigeria's players had initially refused to to go to the Confederations Cup following their 1-1 draw in Namibia in a World Cup qualifier as they were unhappy with the bonus payments offered by the NFF.
The sports ministry intervened and made extra money available, eventually allowing the squad to travel to Brazil - two days late and only around 36 hours before its opening game against Tahiti.