Gillingham: Adebayo Akinfenwa eyes Cody McDonald partnership
Last updated on .From the section Football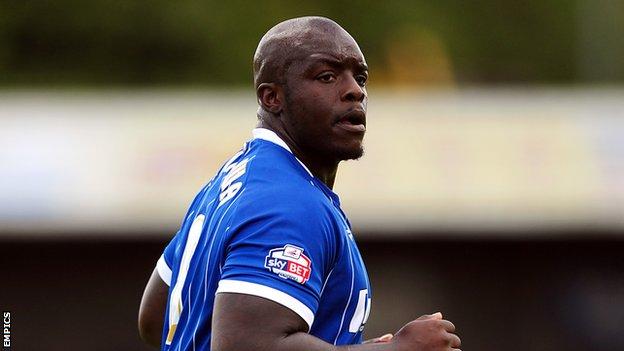 Gillingham striker Adebayo Akinfenwa hopes he will be given a chance to play up front with Cody McDonald.
The duo scored 36 goals between them for the Gills in 2010-11 but have not featured at the same time this season.
"It is only recently it was brought to my attention," he told BBC Radio Kent.
"Everybody knows first time around that our relationship and partnership hit off. The gaffer [Martin Allen] is the one in the driving seat and he makes the decisions."
Akinfenwa, 31, added: "With how everything is going you are just trying to get that win rather than thinking about individual stuff.
"Hopefully when we do play we can re-ignite that connection we had and continue where we left off."
Akinfenwa has scored two goals in seven appearances this season, while McDonald has two in eight.
Last month, Gills manager Allen said the duo would be paired together at some point and "everyone would get a chance to play".
Akinfenwa has been used as a substitute twice this season and is yet to complete a full game this season.
"Everybody wants to play," he said.
"I spoke the the gaffer when I first came in and he is big on rotation. I have played but every footballer should want to play.
"I don't know if frustration is the word but I am eager to get on the pitch and play minutes.
"We have got top strikers here and it keeps everybody on their toes. It is a small squad but the quality is here.
"We will get the gel right and the formula right and once we get the first win I am sure we will go on."
The Gills are still yet to win in League One this season and Akinfenwa admits the players are still upbeat despite some anxiety about their results.
"We are all a bit anxious, as you are going to be with no wins," he said.
"The gaffer is trying to keep us focused and with little tweaks the wins will come. We have been putting in the performances so we know eventually it will turn.
"We'd be more worried if there weren't any signs. We are progressing and going in the right direction.
"Unfortunately football is based on results and we haven't got that win yet."