World Cup 2022: IOC expects Fifa talks over winter switch
Last updated on .From the section Football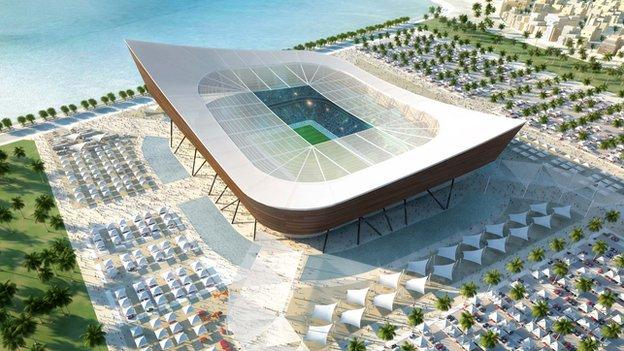 The International Olympic Committee expects Fifa to consult with it over moving the 2022 World Cup as it could clash with the Winter Olympics.
The 2022 Winter Games take place in January and February, but Fifa could switch the World Cup to those months because of fears over the summer heat in host country Qatar.
"We are confident that Fifa will discuss the dates with us so as to co-ordinate them and avoid any effect on the Winter Games," said an IOC spokesperson.
Temperatures in Qatar can reach up to 50C during the summer months and Uefa's 54 member associations have backed switching the tournament to the winter months.
However, Uefa is believed to favour moving the competition to January 2022 rather than November and December of that year to avoid impacting on the Champions League.
World Governing body Fifa is expected to agree in principle to alter the timing of the World Cup at a meeting in Zurich on 3 and 4 October, although some domestic league competitions around the world are opposed to a switch because of the disruption it will cause.
Fifa's 22-strong executive committee, which has 10 members from European associations, will make the final decision.
Arsenal manager Arsene Wenger believes Fifa needs to stick by its bidding process, which is for a summer tournament, but said his 'main worry' was for fans if the 2022 World Cup was held in June and July.
"It decided at the time of the vote that it would be Qatar and that they know as well we know that the World Cup is in the summer. It's in the rules of Fifa," said Wenger.
"They voted for Qatar and they have to stand up for them now and make sure it is done in decent conditions."
Qatar, meanwhile, has reiterated that they could host the tournament in summer as they plan to build air-conditioned stadiums.
"We bid for the 2022 Fifa World Cup in summer and are fully committed and working hard to deliver on these promises," said a statement from Qatar's 2022 Supreme Committee.
"If the international football community asks us to move the timetable for the 2022 Fifa World Cup in Qatar we are able to do so, but the development and implementation of environmentally-friendly cooling technologies remains an important legacy issue for our nation, region and many countries with similar climates."
The chairman of Fifa's medical department, Michel D'Hooghe, recently highlighted fears for fans travelling to matches in the summer heat of Qatar as a concern.
But Qatar's organising committee added: "Creating comfortable conditions for public areas, walkways, training pitches and stadiums both during and after the World Cup means being able to play and watch football matches in summer throughout the country."