Australia match-fixing: British players appear in court
Last updated on .From the section Football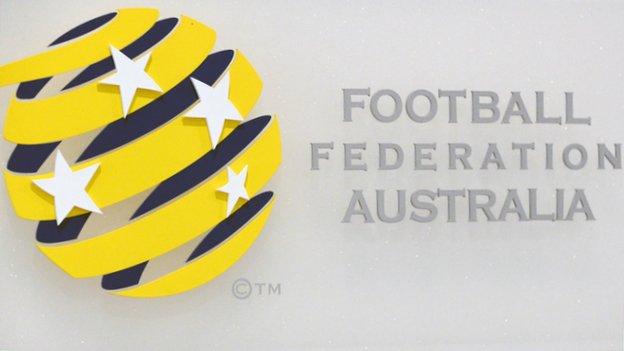 A group of British footballers facing match-fixing charges say they fear attack by associates of the alleged ringleader of a betting syndicate.
Malaysia-born Segaran Gsubramaniam, 45, appeared in an Australian court on Friday alongside Southern Stars players Reiss Noel, Joe Woolley, David Obaze, Nick McKoy and coach Zia Younan.
Detective Acting Senior Sergeant Scott Poynder said the players told police they were concerned for their safety and had barricaded their Melbourne hotel room following their arrests.
"Some of the players currently are securing the door of their room with chairs because they fear Mr S may get people to visit them," he said.
The players and coach Younan were bailed, while Gsubramaniam's bail hearing was adjourned until Tuesday.
All six men are alleged to have been involved in fixing games while playing for the Melbourne-based Stars in the second-tier Victorian Premier League.
The match-fixing allegations relate to the Stars' last four games, when they conceded 13 goals without scoring. They have lost 16 of their 21 league matches this season, winning one and drawing four.
Football Federation Victoria, the sport's local governing body, announced on Wednesday that the Stars' results for the season would be expunged.
All four of the footballers who appeared in court on Friday played English non-league football before moving to the Stars. Three of them - Woolley, Noel and McKoy - joined from Isthmian League side Hornchurch.
Australian police arrested 10 people as a result of the match-fixing investigation, which was prompted by information provided by the Football Federation of Australia (FFA). Police said some of the matches investigated showed an unusually poor standard of play.
Melbourne Magistrates Court heard that Gsubramaniam, nicknamed Gerry, was allegedly the contact between Stars staff and betting syndicates.
Gsubramaniam is accused of working with the syndicates to place bets that led to winnings of more than £1.17m.
He faces 10 charges, including five counts each of either engaging in or facilitating conduct that corrupts or could corrupt the outcome of a betting event. The charges carry a maximum penalty of 10 years in jail under match-fixing laws introduced in Australia in April.
The prosecution opposed bail, arguing that Gsubramaniam was "higher on the totem pole" of the betting syndicate than the other defendants - and could try to leave Australia after police intercepted telephone messages which allegedly recorded him attempting to obtain a fake passport.
Defence lawyer Michael Gleeson told the court that Gsubramaniam had no criminal record, had entered the country legally and on his own passport and disputed the interpretation of the police recordings.
Friday's court appearance was a preliminary hearing, and the defendants have not yet entered a plea.