Rene Meulensteen on Man City v Man Utd, Sir Alex and Van Persie
By David Ornstein
BBC Sport
Last updated on .From the section Football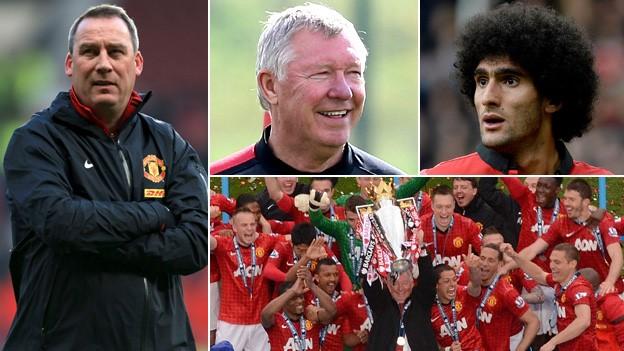 Trusted by Sir Alex Ferguson and championed by his players, Rene Meulensteen has played a key role in the modern-day success of Manchester United.
Meulensteen was first-team coach in the Scot's last five years as and also occupied the roles of academy, reserve and technical skills coach during a 12-year association with the club.
Described by Robin van Persie as "truly one of the best coaches in the world", the 49-year-old Dutchman helped secure a 20th league title last season before opting to of Old Trafford.
In a wide-ranging interview before Sunday's Meulensteen gave BBC Sport his views on United, Ferguson, David Moyes, Manchester City, Van Persie, Cristiano Ronaldo and more.
Sir Alex calls it a day
I didn't expect it to be this season. I thought he would have carried on at least another season. It caught me and others a bit by surprise. I didn't see any signs leading up to that announcement where I thought: 'He's going to go'. He was still full of energy, full of desire, still very, very sharp.
I got a few text messages quite late at night on 7 May - there were some rumours saying Sir Alex Ferguson might retire in the morning. That was very quickly fuelled by things on the internet, so you start to think and wait. I just went to work on the Wednesday morning and the manager called myself, Mike Phelan and Eric Steele in and announced it to us in person. Then it was back to the routines of the day and I was very quickly back on the pitch to prepare the players for the next game.
Ferguson's special touch
Sir Alex had a clear vision, he had a strategy to make that happen and he brought the right people in to put that strategy into place. There were then a number of key things that made him stand out from everyone else.
Firstly, his enormous drive to be successful. Then his ability to anticipate and adapt to change - the Ferguson who joined United in 1986 was a totally different manager to the one who left in May. Thirdly, the ability to get the right people around him and to delegate, which elevates him to another level. An finally, an ability to make the right decisions at the right time. That's what you'll be judged on and he wasn't afraid to make tough ones because the good of the club was always on his mind. Finally, he is a fantastic man-manager.
One of the biggest qualities he had on matchday was the ability to listen. He was surrounded by so many staff and he made them feel very comfortable in giving their opinions. He also had an enormous ability to filter things very quickly. That's where he came to the fore - in the dressing room, at half-time, after the games. Spot on.
The whole hairdryer thing is a nice description of what is happening but, whoever has been in front of the manager and got a telling off, he was just very direct and honest. If he wasn't happy with people's performances - regardless of who it was - bang! If you were getting it, you were getting it. But never ever have I been part of the dressing room and thought to myself: 'Hold on a minute, that's right out of order'. If that would happen for whatever reason, he would be the first one to apologise.
Moyes in, Meulensteen out
It is important both parties know they can complement each other and with my history over the last five years of working with Sir Alex Ferguson, I strongly felt David wanted to do it with his people and his way. I thought I needed to give him breathing space, which he deserves, and it's important because the worst thing you can get is a conflict of ideas and communication breaks down. I thought the best way forward was to step away and let them get on with it the way they want.
Happy shopping?

David is an experienced Premier League manager and he has been in the transfer market many times. I think he's very pleased which is definitely an improvement to the squad. Every time we played Everton, he caused us loads of problems and it puts more physical presence into that midfield. It's clear David rates him extremely highly and in my opinion he's done a very good job to get him.
I don't think they have to jump into the market in January - they haven't done in the past. It's hard to get players in January and not much has changed to their squad anyway - not many have left, and he is a key man, Nani has been given a new so that stability and continuity in the squad is still there.
The title defence
I definitely think they are good enough to win the Premier League. You look at the squad and it's the same, or stronger, than last season. Fellaini is going to be key to attacking set-plays and they've still got all the other players in place. That said, the competition has grown stronger: to Chelsea; for Arsenal; have started well; don't forget Tottenham."
Noisy neighbours?
In the dressing room after the in 2012, when the manager clearly reminded the players of the time he spoke to the likes of Ryan Giggs, Paul Scholes and Gary Neville after Liverpool won the title in 1990. He said the same thing to the likes of Danny Welbeck, Phil Jones and Chris Smalling - 'Remember what I say, remember this day. This is only going to spur us on, make us more determined and make us stronger because that's what competition does. Sometimes life throws things at you that you have to overcome'.
In his mind, I think he really recognised a similar situation to the Liverpool scenario so many years ago. The proved how determined we were - not only the manager but everybody.
Robin reliant
The first time I saw Robin van Persie when he I said: 'Listen, you'll fit like a glove here. The way I know you from a distance, the way you play, the way I know Manchester United, how we want to play and the way we operate, I think you will absolutely love it'. He's done that.
We were on the training pitch in the first week, I was setting up another possession game and I saw the manager speaking to Robin. I overheard him talking about the numbers that were available: 'There are only two numbers available, 20 and 21, what do you prefer?'. So to help Robin a little bit, I said: 'You can only be number 20 because if we do win the title that's number 20, which you will be carrying on your back'.
The Rooney saga
It was clear there was some sort of a desire that he wanted to join Chelsea. I'm very happy that at the end he hasn't and well done to David Moyes for keeping him at United because he is a United player and he can be a key, key man for them. Him in a partnership with Robin van Persie, you've already got a lethal partnership.