Champions League: Celtic boss Neil Lennon targets second place
Last updated on .From the section Celtic84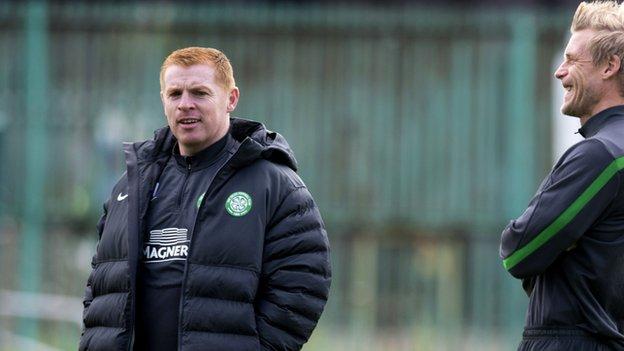 Celtic's best chance of reaching the last 16 of the Champions League is to finish runners-up behind Barcelona, according to manager Neil Lennon.
The Catalan side opened Group H with an impressive 4-0 win against Ajax, while Celtic lost 2-0 at AC Milan.
Barcelona visit Glasgow on matchday two and will be strong favourites to top the section.
"If Barcelona run away with it, then it's a three-way fight for second place," said Lennon.
Celtic, who will be aiming for a repeat of last season's home win against Barcelona, performed well at the San Siro but were undone by two goals in the final eight minutes.
Lennon was heartened by the display in Italy and remains upbeat on chances of progress but knows Celtic will need to punch above their weight against clubs who enjoy far larger player budgets.
And he concedes that signing players with a track record in the Champions League is beyond his means.
When asked if Celtic lacked a proven goal scorer at the top level, Lennon replied. "What do you class as a Champions League goal scorer? [Robin] Van Persie? They cost more than £20m.
"So yes of course we are going to lack a Champions League goal scorer. [Lionel] Messi, [Cristiano] Ronaldo, [Andriy] Shevchenko they are proven Champions League goal scorers. You just don't buy them.
"This question 'do you lack a 'Champions League goalscorer', what are you gauging it against. What are you comparing it to?
"We've lacked a Champions League goal scorer since I took over. We haven't had that since Henrik Larsson. They cost a lot of money and they're hard to find."
Anthony Stokes made his first Champions League start on Wednesday and struck the crossbar with a free-kick just minutes before AC Milan broke the deadlock.
"He showed that he is capable of creating chances on his own, Lennon said of his lone striker's contribution.
"His movement was excellent and he gave AC Milan all sorts of problems. For his debut at that level, I think he can very pleased with himself.
"I was not surprised. He has been a little bit ill-disciplined in the past but since he has come back from his injury he has shown a high level of consistency."
Of Lennon's summer signings, only defender Virgil van Dijk started in Milan but the manager is confident the new additions to his squad will have a big part to play this term.
"We are always looking for value for money," he explained. "(Amido) Balde, (Nir) Biton, (Derk) Boerrigter, Van Dijk and (Teemu) Pukki have added a different dimension and they will compliment the players we already have.
"What we are looking for is players to make us better and we feel we've got that."