Wayne Rooney: Man Utd boss Moyes thought he had 'gone soft'
Last updated on .From the section Football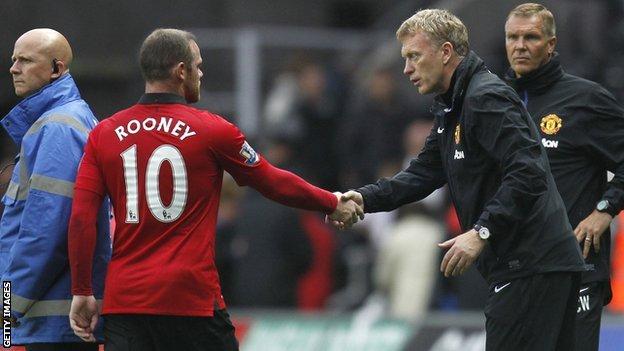 New Manchester United manager David Moyes says that when he arrived at Old Trafford his first impression of Wayne Rooney was that he had "gone soft".
The Scot said: "I thought he had to get back to being a bit more aggressive."
But after three goals in two games ahead of Moyes believes England striker Rooney, 27, is back to near his best.
"He's played really well. I'm asking him to step up again, I want him to keep getting better," said Moyes.
The United boss, who was appointed in May after Sir Alex Ferguson retired, added he is planning to take things "step by step" over the England international's long-term future.
Rooney, who Moyes sold to United when he was Everton boss, stayed at Old Trafford despite indications over the summer that he wanted to leave.
Chelsea boss Jose Mourinho targeted Rooney during the transfer window after the player was left angered and confused about his position following hints from Moyes he would not be his first-choice striker.
But since United made it clear they would not let Rooney leave, Moyes has been delighted with the player's response.
"When I came I thought he had gone a bit soft," Moyes told MUTV.
"I didn't think there was ever a line to draw under between me and Wayne but now he realises the situation.
"This is a big year for him with the World Cup and he would say, by his standards, 'last season wasn't my best season'.
"He has set out his own stall to say he is going to improve on that."
Moyes had earlier been asked if a contract extension was a possibility for Rooney and said: "I think we just go step by step."
Rooney, whose current United deal expires in 2015, missed England's recent World Cup qualifiers against Moldova and Ukraine after suffering a bad gash to the head in training.
He returned to action with a goal from a free-kick in last Saturday's 2-0 Premier League win over Crystal Palace, then struck twice on Tuesday as Bayer Leverkusen were beaten 4-2 in the Champions League.
Moyes added: "If he could score another two goals at the weekend, that would be the next step forward, wouldn't it?"