Rainbow laces campaign defended by Stonewall
Last updated on .From the section Football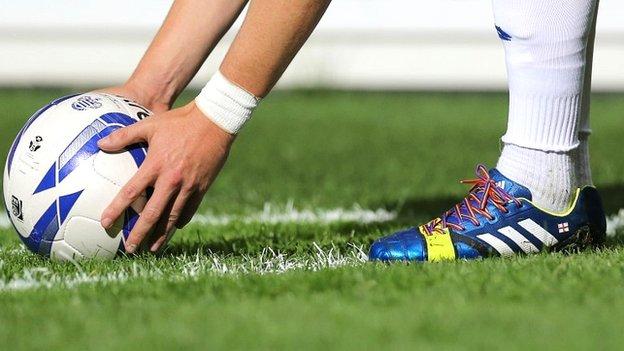 Gay rights charity Stonewall has defended its rainbow laces campaign, saying a bookmaker's backing and a "cheeky" slogan has engaged fans.
The initiative, called Right Behind Gay Footballers, has been criticised by
"We don't have the reach to players, fans and clubs of a company like Paddy Power," said Stonewall's Richard Lane of the bookmakers' involvement.
"It's a fun, cheeky approach and a good way to engage fans, players and clubs."
Some clubs have claimed that the backing of Paddy Power, who had a TV advert that encouraged viewers to guess the gender of women suspended in 2012, creates difficulties with their own betting partners.
Stonewall has sent the laces to all 92 Premier League and Football League clubs, with QPR midfielder Joey Barton one of the first to wear them
Last season, during a loan spell with French side Marseille, Barton
"He is certainly a colourful character and we would completely condemn those previous comments that he has made," Lane told BBC Sport.
"But he is one of very few people who is willing to put his head above the parapet and back this as an issue."
Manchester United, Tottenham, Sunderland, Southampton and Norwich are among the clubs who have said they will not be taking part in the campaign, with several criticising the lack of prior consultation before the laces were sent out.
Fulham and Arsenal will allow their players to decide on the issue, although Fulham have questioned the campaign's methods and
"It is hard to say," said Lane when asked how many players would join Barton in wearing the laces this weekend.
"But what we have seen already is thousands and thousands of people talking about it on social media and hundreds of celebrities, politicians and footballers who are engaged in the debate which is incredibly positive."