Joe Kinnear: Newcastle's director of football defends lack of signings
Last updated on .From the section Football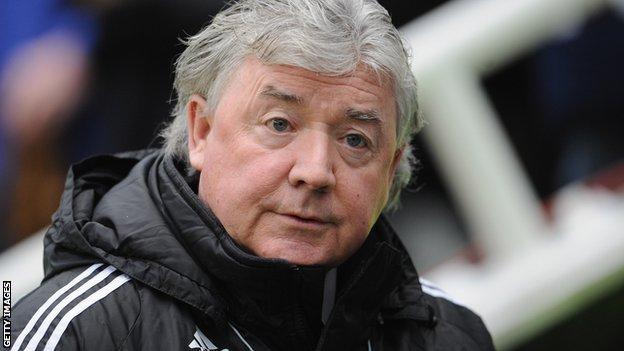 Newcastle director of football Joe Kinnear has blamed inflated fees and the demands of agents for the club's lack of summer transfer activity.
"It was very frustrating that we did not add at least another signing to the squad in the recent window, but it was not for lack of effort," he said.
Kinnear, who managed Newcastle in the 2008-09 season, returned to the club in June to oversee player recruitment.
The 66-year-old has borne the brunt of fans' frustration at the lack of signings.
In his programme notes for Saturday's Premier League game against Hull, Kinnear added: "I worked very hard on several targets and we made a number of bids for players, but for various reasons - some of which were outside the club's control - we were unable to secure our targets.
"It was not an easy task to improve the quality of the current squad with the financial resources at our disposal, particularly in a window in which the value of players was grossly over-inflated and the demands of agents likewise.
"We will continue to operate in a financially responsible manner, buying only the right players for the right prices and not paying over the odds or making costly knee-jerk decisions."
Earlier this month, Magpies manager Alan Pardew said financial constraints were behind the club's lack of summer signings and praised Kinnear for working hard on numerous targets.
Newcastle's only other business during the transfer window involved signing midfielder Olivier Kemen, 16, for their development squad.