Mark Cooper: Swindon manager's journey to facing Jose Mourinho
By Caroline Chapman
BBC Sport
Last updated on .From the section Football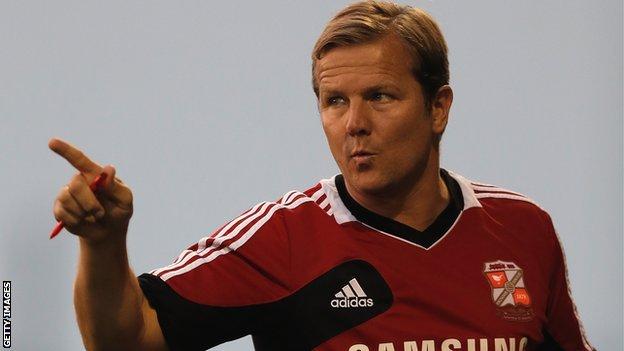 This time last year, while Jose Mourinho was leading Real Madrid to a routine La Liga victory, Mark Cooper was more concerned with the appearance of his back yard.
But on Tuesday, Cooper will be face-to-face with the so-called Special One, when his Swindon side hosts Mourinho's Chelsea in the third round of the Capital One Cup.
Recalling his daily routine in 2012, Cooper told BBC Sport. "I was probably watching games, doing the garden and getting immensely bored."
At the time, the 44-year-old former Birmingham and Exeter midfielder was eight months into what was to be a 12-month spell of unemployment.
Having started his coaching career at Tamworth in 2004, Cooper moved on to take charge at Kettering, Peterborough and Darlington - where he won the FA Trophy - before a second spell with the Poppies, which ended after only a month because of the non-league club's financial difficulties.
After eight years on the managerial merry-go-round, he found himself on the scrapheap.
"It's tough. You start to doubt yourself and wonder if you're ever going to get back in," he said.
"But you have to stay positive and, if you think you know what you're doing, you'll get back in. If you do get that chance then you've got to make it count.
"You have to wait for the dice to roll and hopefully you get lucky again."
Cooper's fortunes have indeed changed, as he now finds himself pitting his wits against Mourinho's three-time Premier League-winning side.
But it has not been a straightforward build-up to what Cooper deems to be the most important game of his career.
Cooper was given the chance to re-enter management at non-league level with AFC Telford at the start of this year, but after one draw and four defeats, he walked out of the to take a job as assistant manager to Kevin MacDonald at Swindon.
And Cooper suddenly found himself in caretaker charge after MacDonald's decision to quit over the summer, following the League One semi-final play-off defeat.
Swindon were in transition behind the scenes - new owner Jed McCrory and his consortium were forced to slash budgets after the big-spending days of former manager Paolo Di Canio.
Cooper was seen by many as the "cheap" option to lead the club on a full-time basis and his history did not help his cause.
His only previous taste of Football League management came in his ill-fated 13-game spell as Peterborough boss - which included just one win - and he had seemed non-committal in non-league.
Some Swindon fans vented their disapproval as it became clear he was the front-runner for the job, and Cooper admits: "There were more than a few and I would have probably have been one of them.
"I enjoyed being an assistant under Kevin and when I became caretaker I thought I was just holding the baby.
"They [the fans] were used to having big name managers and they end up with me. I understand that but I said from the start that, given the opportunity, I'd be able to do a decent job.
"Hopefully they can see the hard work is paying off."
He was officially given the full-time job last month and with a young group of low-cost players, bolstered with six Tottenham academy products, he has impressed so far.
Swindon have taken 11 points from eight league games and have the League Cup third round on the horizon, after defeating Torquay and QPR.
"We've got a group of players together who are easy on the eye and very good to watch," observes Cooper.
"When you get a group of young players like we have, they have no fear. They're not frightened of anything. They won't be fazed by Chelsea."
But Cooper himself is little more awestruck about coming up against one of the world's most celebrated managers.
"Any manager who has started out in the last seven or eight years has probably looked at Jose and thought 'wow' at how tactically astute he is and how clever he is with mind games," he said.
"And if they're honest, they want to have a bit of that in them. I think there's plenty of people who have modelled themselves on him.
"It's not like you're overawed but you're respectful and you want to learn off people like that, which is certainly what I'll try and do. I'll be picking his brains for as long as he'll let me."
When asked about plans to stop mooted Chelsea starters Juan Mata and David Luiz, as well as the other Premier League stars arriving at the County Ground, Cooper coolly says: "We may get beaten 10-0 but we're going to try and make a game of it.
"If Chelsea turn up and don't quite fancy it and we play 150% of what we've got, then we have a chance.
"For our fans to be watching a team of internationals, it's going to be a fantastic occasion, in front of a full house and we'll earn plenty of money out of it. I'm looking forward to it."
But when reminded of his year-long journey from green-fingered football observer to Mourinho's opposite number, a sense of pride appears.
"This time last year I never thought that would happen," he said. "When you've managed in non-league and earned your stripes down there it's what you're trying to get to.
"It gives a lesson to all managers who are out the game or struggling that it can happen."