World Cup 2022: David Gill suggests compromise solutions
Last updated on .From the section Football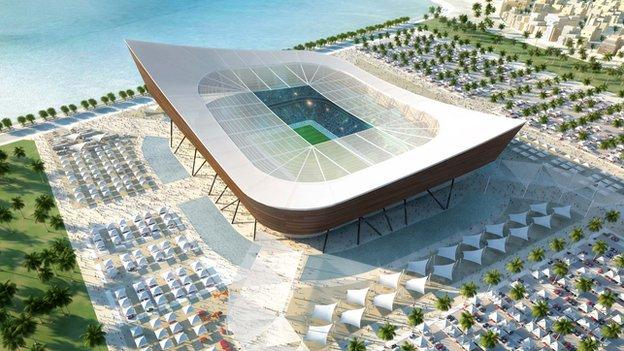 The impact of moving the 2022 World Cup in Qatar from summer to winter could be limited to one season, says Football Association vice-chairman David Gill.
The summer heat in Qatar may force a switch and the Premier League expects the shift to disrupt three seasons.
But Gill has suggested several options, including Fifa cutting the call-up period before international matches.
"The FA Cup may have to give up replays in a particular season, clubs may have to forgo a pre-season tour," he added.
Speaking to Radio 5 live's Sportsweek programme, he continued: "It is not ideal as the World Cup has always been in the summer. A move, if it has to be made, has to involve compromise from all parties.
"Uefa may have to move the Champions League round of 16 from its current four-week format to two weeks.
"If everyone goes in with that attitude then I'm sure you can come up with a solution that is acceptable to everyone."
Gill left his role as Manchester United chief executive in June.
He is still a director of the Old Trafford club but has moved on to become a FA vice-chairman and an executive committee member of Uefa.
The 56-year-old was at the Uefa meeting in the past week at which the 54 member associations of European football's governing body "decided that they weren't against playing in the winter, and that was all".
According to Gill, a move in venue from Qatar was not discussed.
Fifa is expected to agree in principle to alter the timing of the 2022 World Cup at a meeting in Zurich on 3 and 4 October, with its 22-strong executive committee - which has 10 members from European associations - to make the final decision.
"The important message coming out of Uefa is that no decision on dates is to be made at this time," said Gill.
"The Uefa position is that the work has to be done and that has to involve all the stakeholders within the game. Whether that be associations, clubs, players, leagues - it is only through that work being undertaken that a final decision can be made."