Man City v Man United: A chastening day for Moyes

By Phil McNulty
Chief football writer
Last updated on .From the section Football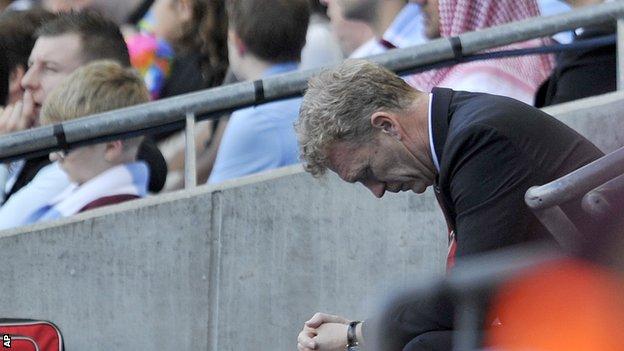 The last time a Manchester United manager was serenaded with such fervour in the heart of Manchester City territory he headed straight home and hid his head beneath a pillow.
Sir Alex Ferguson was the man in question - "a sense of guilt had engulfed me" - and it was after the infamous 5-1 beating handed out by Mel Machin's Manchester City at Maine Road on 23 September 1989.
"Fergie Must Stay" was the refrain that day as he fought through uncertainty on the way to becoming the most decorated manager in Manchester United's history and one of the defining figures of the recent sporting age.
For Ferguson read his successor David Moyes, in retreat in his technical area and hearing City fans echoing his name in sarcastic song around the Etihad as their side turned the Scot's Manchester derby introduction into the stuff of his nightmares.
City were in the process of giving United the most fearful going over as they powered into a 4-0 lead, making the sort of statement their own new manager Manuel Pellegrini had demanded of them.
Pellegrini's side had shaken United until they fell apart. Every weakness probed ruthlessly, every ageing leg ran ragged. As the Chilean beamed his delight on the sidelines, Moyes was the portrait of a tortured soul, his bowed head in his hands.
Ferguson had been in charge for nearly three years when he hit that Maine Road nadir, losing 5-1 in 1989. Moyes has only been at Old Trafford a matter of months so the bonus might be that he has got his out of the way early.
But there can be no escaping what a harrowing experience this was for Moyes and a Manchester United side that at times seemed to be playing a different game to Manchester City.
Moyes is hardly at crisis time. This season is in its infancy and a long list of casualties can be produced from those who have written Manchester United off too soon and later had to tuck into double helpings of humble pie.
But Moyes faced three key games in the opening phase of this Premier League season (forget the churlish complaints about the fixture list) as United played Chelsea at Old Trafford and travelled to Liverpool and Manchester City.
United were comfortably held by Chelsea in a dull goalless draw, lost deservedly at Liverpool and were hammered out of sight by City. Tough fixture list or not, that is a very poor return. Victory in one of those games would have increased his stock with United's support as they got used to life without Ferguson - instead he has brought back a single point.
City have form for handing out this sort of beating to United. It was less than two years ago they won 6-1 at Old Trafford, but if anything this was more humbling.
While not taking any credit away from City's performance on that day, the landmark win at Old Trafford was a freakish combination of circumstances as United lost Jonny Evans to a red card and conceded a flurry of late goals, and ultimately the title to their neighbours on goal difference, while recklessly chasing the game.
There was no freak element to this result. Indeed, with City 4-0 up after only 50 minutes it looked like they might cruise past six goals, such was the state of disarray they had inflicted on the reigning Premier League champions.
Yes, Moyes was robbed of the brilliant Robin van Persie because of a groin injury but the margins here were not the result of one man's absence. City outclassed United in every single area until they eased up with a four-goal advantage and the task complete.
Pellegrini's City played in the style he described so simply. Get the ball. Keep the ball. Score as many goals as possible.
Moyes had moved out of view into his seat in the dug-out long before the end. He only made occasional appearances as the orders were left to his his assistant Steve Round and coach Phil Neville.
He is unlikely have retreated to his bedroom and sought sanctuary underneath his pillow after driving away from the Etihad. He has too many questions to answer in the coming days.
One of the scars of his record at Everton was his failure to win at Liverpool in 11 years. And yet Everton rarely put up a derby performance as wretched and timid as this one offered up by United in that winless sequence.
United looked laboured when set against vibrant City, with Samir Nasri and Yaya Toure setting the charges for the impressive strike duo of Sergio Aguero and Alvaro Negredo.
While Nasri and Jesus Navas offered creation, hard work and subtlety from the flanks, United had the hapless pair of Antonio Valencia and Ashley Young, the latter particularly dreadful.
Young gives the impression he feels he is more than comfortable playing at a club such as Manchester United. The problem is, he is now regularly producing performances that suggest he is not.
When he was finally substituted after 52 minutes it ended his own embarrassment but also demonstrated a hint of desperation on the part of Moyes as he sent on Tom Cleverley. It smacked of mere damage limitation, which was just about his and United's best option at that point.
Marouane Fellaini, part of a two-man holding midfield with Michael Carrick, looked a very poor man's Yaya Toure - which was a major problem for United as Toure was the man in opposition who was ruling that area imperiously.
Carrick was reduced to complete anonymity in a colourless United midfield. For all the window dressing about Fellaini being the midfield signing United wanted, it does not take the trained eye to see that they needed to uncover some genuine world-class creativity. Carrick and Fellaini were simply swatted away by Toure and his cohorts.
In defence, Moyes has relied regularly on Nemanja Vidic and Rio Ferdinand this season but on Sunday it looked like this had already started to take its toll on the veteran pair. Aguero and Negredo were simply too mobile and slippery for this most enduring of central defensive partnerships to control.
If there was one shining light for United it was Wayne Rooney. Outstanding from first to last, it will have been no consolation to this arch-competitor to score a brilliant late free-kick but it was the very least he deserved from a performance that was an example in how to continue to fight against overwhelming odds.
It is in United's psyche to react in the face of the criticism they and their manager will receive, justifiably, in the coming days but this was a chastening day for Moyes and the champions.
Moyes knew with one glance at the fixture list this would not be an easy introduction to the tough task of succession to Ferguson after 26 years but even he would not have been expecting the beating his team received on Sunday, not simply measured in the scoreline but in passion, invention, imagination and power.
United welcome Liverpool in the Capital One Cup at Old Trafford on Wednesday. Some consider these early rounds as an unwanted intrusion into the calendar of their main players. Moyes and those main players must treat it as their first shot at redemption.