Luis Suarez: Have Liverpool missed the striker?
By Alistair Magowan
BBC Sport
Last updated on .From the section Liverpool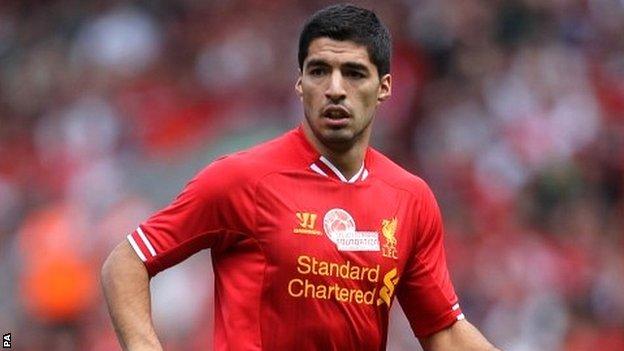 He has dominated headlines, courted controversy and seemed destined to leave the Premier League - but Liverpool striker Luis Suarez is back.
The 26-year old has been out of action since starting a 10-game suspension for biting Chelsea defender Branislav Ivanovic in April and is available to face Manchester United in the Capital One Cup on Wednesday.
But a week ago it appeared Brendan Rodgers's side had been coping just fine without the controversial Uruguayan: Liverpool were top of the Premier League with forwards Philippe Coutinho and Daniel Sturridge playing with distinction.
Indeed, statistics show that since Suarez joined the club in January 2011, Liverpool's win ratio drops from 61% when Suarez is on the sidelines to 39% when he is playing, and that Sturridge has a better strike-rate when he plays without the former Ajax forward.
The England man has scored 11 goals in 10 games since Suarez was banned for biting Chelsea's Ivanovic last season.
So have Liverpool missed him?
On the face of it, Wednesday's cup tie against Manchester United is a potentially fraught occasion for Suarez to make his comeback, given that he received an eight-match suspension and a £40,000 fine for racially abusing United defender Patrice Evra in 2011.
But a shoulder injury to Coutinho, suffered in the 2-2 draw with Swansea, and a first defeat of the season by Southampton last Saturday where the team lacked the Brazilian's creativity, has increased the chances of Suarez being handed an immediate return.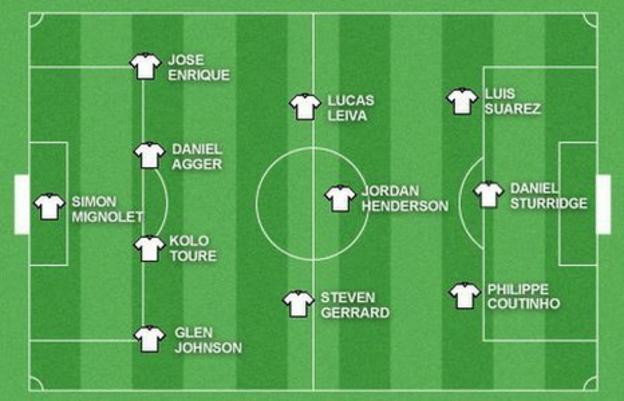 "If you look at the results, Liverpool haven't really missed him and that is a testament to Sturridge and Coutinho," former Reds forward Robbie Fowler told BBC Sport. "But that's the good thing about Liverpool, they have a world-class player waiting in the wings.
"It will be baptism of fire against United but I think Suarez wouldn't want it any other way."
Suarez ended last season with 30 goals in all competitions but after two bans and a summer where he made clear his desire to leave the club, Liverpool fans might have been forgiven for losing their patience with him.
And it has come at a time where Liverpool have shifted from a side reliant on Suarez's goals to one that can grind out results with a tight defence. Liverpool won each of their opening three league games 1-0, with Sturridge on the scoresheet each time.
That new-found resoluteness and a settled 4-2-3-1 formation may go some way to explaining why Liverpool have a lower win percentage with Suarez in the side than without him. Nine of the 18 Premier League games he has missed since joining the club in January 2011 have come during his recent ban.
His mantle as the team's most creative influence has also had competition from another diminutive South American - Coutinho.
And there are suggestions that the 21-year-old Brazilian is better at bringing the best out of Sturridge.
Coutinho leads the side for league assists since he joined the club in January and has set up more goals for Sturridge than any other player. In addition, Sturridge has scored nine goals in nine Premier League games without Suarez in the side compared to five in 10 when he has been played alongside him.
But Fowler believes that Rodgers will find room to accommodate both and give them licence to roam. Eventually he can see the Liverpool boss opting for a 4-3-3 formation with Suarez, Sturridge and Coutinho as a fearsome front trio or a 3-5-2 with Coutinho pushing on to help the other pair.
"Sturridge has been phenomenal and is a nailed-on starter but I don't think Suarez will play deeper behind him," Fowler said. "He will probably play up front, drifting towards the left or the right and the pair of them will change roles throughout a game because they want to be involved."
Former Reds defender Mark Lawrenson added: "People keep saying to me 'where will Suarez play?'
"Well, he will play where he played when Liverpool signed Sturridge in January, which is coming in from the left as part of a front three.
"When Sturridge joined, Suarez was definitely the top man and scoring all sorts of goals. Brendan Rodgers moved things round, put Sturridge through the middle and asked Suarez to change his role a little bit and Suarez was happy with that. He just got on with it and looked an even better player for me."
"He just wants to play and he is a dangerous forward player wherever you put him in the Liverpool system."
Liverpool beat Manchester United 1-0 at Anfield earlier this month where lone striker Sturridge operated in front of three attackers - Iago Aspas, Coutinho and Jordan Henderson.
Since then, on-loan forward Victor Moses has joined from Chelsea and has also come into the reckoning to add to Liverpool's considerable options and Rodgers is known to allow his front players the fluidity of movement to express themselves.
"If you look at all the signings Rodgers has made, they all point in the right direction of the way he wants them to play and the belief of getting into those Champions League positions," Fowler said.
"The players are happy with the manager, they want to play for him, and I think you can see that on the pitch."
Many inside Anfield will hope that Suarez does not spoil that equilibrium and can give Liverpool the added boost, rather than the bite, that they need.