Paolo Di Canio: Sunderland squad relationship 'broken beyond repair'

By Phil McNulty
Chief football writer
Last updated on .From the section Football755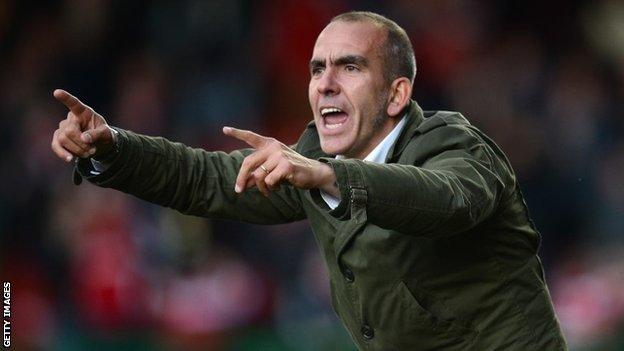 When Paolo Di Canio marched towards Sunderland's furious fans at West Bromwich Albion pointing at a chin jutting out in defiance, it was almost an open invitation for the decisive blow to be delivered.
And so it proved on Sunday evening as the circus that has been in residence in Sunderland for six months finally left town at the behest of American owner Ellis Short when manager Di Canio was sacked.
Di Canio was once said, in the words of former Swindon Town chief executive Nick Watkins, to favour "management by hand grenade", so it is no surprise his time on Wearside was short and explosive.
It all came to an end as Short finally admitted the folly and failure of his experiment with the 45-year-old Italian amid talk of dressing room revolt and the growing fear of meltdown and Premier League relegation under the Italian.
In a region where little surprises any more, Di Canio still provided pure theatre, high farce and a constant supply of headlines - often in the space of a single media briefing.
The 3-0 defeat at The Hawthorns was the final straw for Short, accompanied as it was by bizarre grandstanding from Di Canio in front of an increasingly angry support and another loss delivered by a group of players who appeared to have finally tired of his confrontational style and habit of publicly attacking their efforts.
Di Canio's eccentricities might have been more palatable had they been propped up by results but three victories in 13 games - even if one was the 3-0 win at Newcastle United that will sustain him in the memories of Sunderland's followers - was no shield against his occasionally outlandish behaviour.
Sunderland are bottom of the Premier League, bereft of spirit, and any bond between the manager who brought 14 players to the club this summer in tandem with fellow countryman and director of football Roberto Di Fanti and his squad was broken beyond repair.
There has been a sense for some days that Di Canio was doomed but there will be some who will justifiably sympathise with a manager sacked only five league games into the season.
Di Canio just about applied the quick fix Short was looking for when he succeeded the sacked Martin O'Neil in late March as the win against Newcastle, followed up by victory against Everton six days later, kept them in the top flight. The subsequent 6-1 loss to then relegation rivals Aston Villa proved to be a more accurate indicator of Sunderland's future direction.
Short, however, must take a large share of the responsibility for the demise of Di Canio. The appointment was widely questioned giving his contentious, albeit more successful reign at Swindon Town.
Unless Short had appointed Di Canio without doing a single piece of research (unlikely given his status) he can hardly have been shocked by his new manager's volatile personality and the ease with which he could ruffle feathers, even among his own players.
What Short saw with Di Canio was what he got. The fact that he does not like what he sees any more points up the flaw in his own decision-making process.
Di Canio's sacking brings an end to the turbulence which saw a flood of players in and out of The Stadium of Light in the summer, one of the final wounds being inflicted by Stephane Sessegnon, who he sold to West Brom in a £6m deal on transfer deadline day.
Along with the image of Di Canio leaving grass stains on his expensive suit with a triumphant slide along St James' Park touchline in that famous win, he will also be remembered for his incendiary press conferences that often ended with various members of his squad being hung out to dry.
The scattergun approach to his treatment of players was exemplified after the recent loss at Crystal Palace when he pointed the finger at the experienced and respected John O'Shea for a "terrible" sending-off, claimed his players were "empty in the brain" and added for good measure: "I don't think even the most arrogant player in the world can argue if you say that the first two goals were absolute rubbish."
Pure gold dust for us in the media but not exactly designed to foster harmony between players and manager.
He also revealed that he jokingly asked referee Martin Atkinson to send him off following controversial decisions in the recent loss at home to Arsenal. And was promptly sent off.
The hardline approach at Sunderland's training ground was another source of fascination with mobile phones being banned along with ketchup, mayonnaise and ice in Coca Cola.
Even Sunderland fans who initially appeared to feel Di Canio was giving under-achieving players exactly what they deserved with such public upbraidings eventually turned their ire on the manager.
On many occasions Di Canio was probably echoing the same sentiments as supporters - the difference being he had to be on the training ground with those same players the next day as a source of motivation and inspiration. It could not last long.
The equation is simple. Di Canio could have said what he liked in public and in private if he was producing wins, the currency of such criticism is worthless when you are at the bottom of the table.
Short will now look to a more stable influence to blow away the storm clouds of the Di Canio era.
Former Chelsea manager and Champions League winner Roberto Di Matteo seems a common sense choice given the heavy Italian influence left behind but what about the arch-pragmatist Tony Pulis?
Di Canio's presence as a permanent headline generator will be missed and there will be a body of opinion that will understandably say no definitive judgment can be made on a manager after only 13 games.
This, however, is Paolo Di Canio. The normal rules do not apply - and Short will now look for a shred of normality as he searches for the Italian's successor.