Oldham: Salford owner Dr Marwan Koukash invited to make Latics bid
Last updated on .From the section Football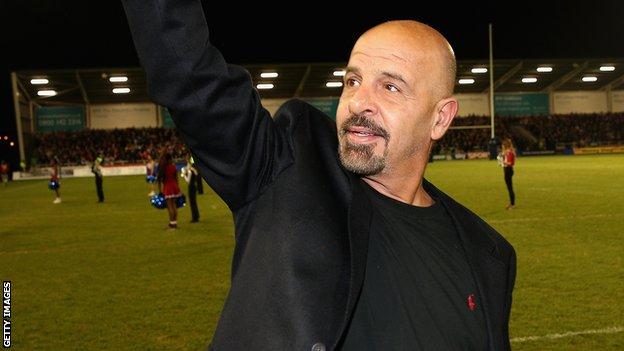 Dr Marwan Koukash has been asked to make his intentions clear for Oldham Athletic after he expressed interest in taking control of the League One club.
Koukash, the owner of Super League side Salford Red Devils, has said he would like to purchase the Latics and another rugby league outfit, Oldham Roughyeds.
But Oldham Athletic's board say the two parties have had little contact.
"As such, what we've done is invited Mr Koukash to make a bid," Latics director Barry Owen told BBC Radio Manchester.
"If he's serious about what he intends, all he has to do is arrange to meet the chairman and ourselves and make a firm bid. Then we'll look at it."
Speaking before the on Saturday, Owen continued: "It's no secret that [chairman] Simon Corney did speak to Marwan a few months ago, but since that time we've heard nothing whatsoever.
"Simon has never made any bones about it that Oldham Athletic would always be up for sale. If the right bid came in and it was in the interests of Oldham Athletic, it would always be considered."
in January, and although the club finished bottom of Super League in 2013, optimism for the future is high following
and his plan is to take control of the football and rugby clubs in Oldham with a view to building a new stadium to house them both.
Roughyeds chairman Chris Hamilton confirmed last week that he has held "positive" talks with Koukash over his plans for the Championship One club.
"We are still in the early stages, with a lot of work to be done, but we will continue with the process in terms of moving things forward," said Hamilton.