World Cup 2022: Scottish FA backs Qatar winter switch
Last updated on .From the section Football240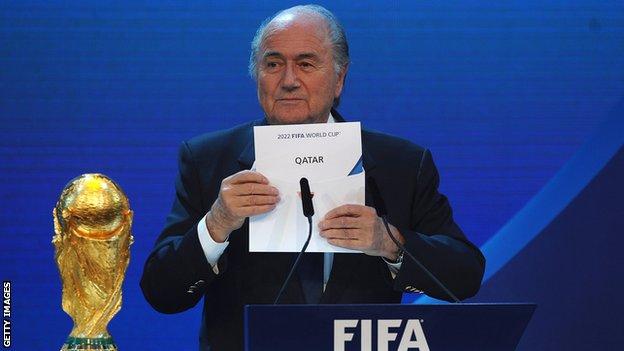 Scotland would support a winter switch for the 2022 World Cup in Qatar, according to the Scottish FA.
Summer temperatures in the Gulf state can reach 50C, sparking health fears for players and fans alike.
"We'd quite happily play the World Cup in the North Pole on Christmas Day," said SFA chief executive Stewart Regan.
"If we were part of the qualification, we wouldn't want our players playing football in the height of the summer."
The prospect of a winter World Cup in 2022 took a step forward after .
"That would be our preferred option," said Regan. "It therefore means you'd have to consider another part of the year; potentially, a winter World Cup.
"Whether that's at the beginning of 2022 or at the end of 202 would be subject to further discussions with our own league body."
Uefa's 54 member associations backed the switch at a meeting in Croatia.
Asked how disruptive a switch to winter would be in terms of domestic football fixtures, Regan said: "Clearly there would be a lot of logistical challenges and that's why a consultation group has to be established and why Fifa have agreed to talk to all of the confederations and, indeed, why we were debating the matter in Dubrovnik last week.
"What happens next is that a group of individuals will work through the practical details of potentially switching to a winter World Cup - when it would be, what would be the issues as far as fixture congestion and reassessing when fixtures could be played.
"Those matters would be consulted with the associations, who in turn would consult with their own league bodies and hopefully a plan can be developed that everyone is happy with."
Scotland have failed to qualify for a major finals since the 1998 World Cup in France.