Wales Women lag behind, says Jess Fishlock
Last updated on .From the section Football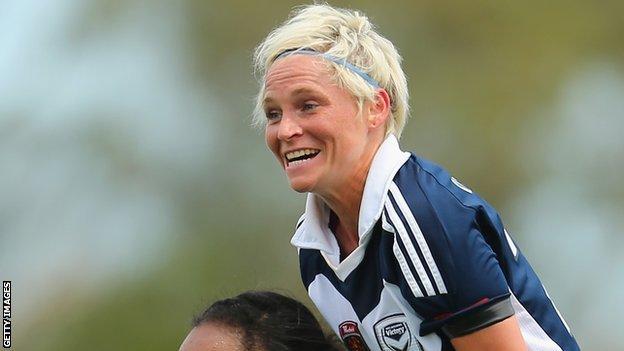 Wales Women midfielder Jess Fishlock has called for increased funding and backing for the game in her homeland.
Glasgow City professional Fishlock says the women's game in Scotland and England is "at least 10 years ahead" of the women's sport in Wales.
And she says of the Football Association of Wales' development programmes: "Our pathways are not the right pathways."
However, the FAW says the women's game has "developed significantly" recently.
The full statement from the FAW read: "The women's game has developed significantly during the past few years in Wales. Our aim is to maintain that development and to build upon it.
"We recently successfully hosted the Uefa Women's Under-19 tournament in west Wales. This Thursday we host our first women's international at the Cardiff City Stadium. We now have our own national league.
"Hopefully this will lead to more media and press interest which in turn will lead to an increased awareness and further investment in the future."
The FAW is set to reveal its new Strategy for Women's Football in Wales on Thursday, with a launch planned at Cardiff City Stadium before Wales Women play Belarus in their World Cup qualifier.
Fishlock, who is on loan at Glasgow from National Women's Soccer League side Seattle Reign, told BBC Radio Wales Sport: "I'm a firm believer that our pathways are not the right pathways and we need to build and find new ones.
"We as a senior squad as well need more backing, absolutely, and so I think women's football in general in Wales needs a lot more backing.
"And it is unfortunate that we can't play in Wales [as professionals].
"I would have loved nothing more than to have come back from Seattle and just settled back at home for a while.
"Instead I have to go elsewhere to do that, which is unfortunate."
Fishlock praised national team manager Jarmo Matikainen, of Finland, and says the nation's Under-19 players gained valuable experience when the FAW recently hosted the Uefa U19 Championships.
"The game is growing. The Under-19s had a fantastic experience in the finals a couple of weeks ago," said Fishlock.
"There was great support and Jarmo's doing a fantastic job so I hope that the FAW and the FAW Trust can work together and find good pathways and support us and back us a little bit more.
"And then I believe that if we get that investment you will see results and we will get closer to qualifying for major tournaments... no team from Wales has done that yet.
"You look at Scotland right now. I'm playing at Glasgow - what their SFA [Scottish Football Association] are doing is unbelievable.
"And it's going to be no coincidence when they qualify for major tournaments soon.
"It is investment and it is money and it's something that we need."
Fishlock says the women's sport in Wales cannot hope to enjoy funding comparable to their male counterparts.
She added: "Our associations, unfortunately, have to step up for that because women's football is not at that point where the clubs provide us with what the men get.
"The [FAW] association - they have helped us a lot so far, but the reality... is that women's football is getting huge everywhere.
"And the likes of Scotland and England - Scotland were not that far ahead of us - are now at least 10 years ahead of us, I would say."