Paolo Di Canio: What now for Sunderland's former manager?
Last updated on .From the section Football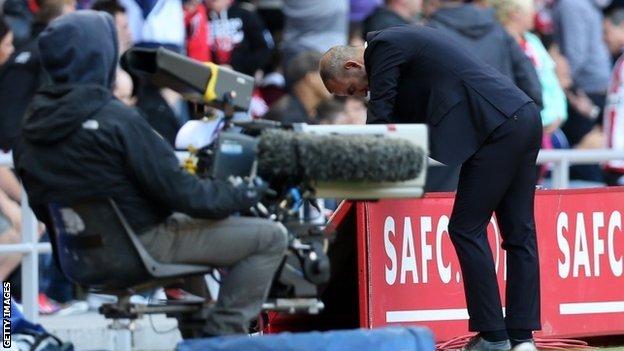 Passion, pride, desire, discipline, determination - on the surface Paolo Di Canio's managerial principles sound ideal.
You buy into the philosophy, respect the club, take pride in the badge, and you work hard. Very hard.
It is a concept that can have the players enthralled and the fans enraptured when it works, as witnessed by promotion from League Two with Swindon Town and a place at the top of League One the following season.
But when you parachute a fiery, demanding leader into the highly paid bubble of a Premier League squad, the impact can be dramatic and traumatic.
Di Canio, 45, was sacked on Sunday with Sunderland bottom of the table following a 3-0 defeat by West Brom which left them with just one point from five top-flight games.
He had a dressing room bust-up with players and his lonely, almost apologetic walk to the away fans indicated a man who had lost support.
After quitting Swindon, the Italian had taken over at the Stadium of Light in March and helped ensure escape from relegation despite a row over his alleged support of fascism.
A tough disciplinary regime and his no-nonsense approach appeared to rile key figures. Much was made of tomato ketchup and mayonnaise being prohibited from meals at the training ground.
And while banning ice in Coca-Cola may have been the final straw, his biographer Gabriele Marcotti believes some sections of the British media have unfairly typecast the Italian.
"I might be wrong, but I'm pretty sure they don't encourage mayonnaise and ketchup at Arsenal. These are professional athletes after all," he says.
"When he went over to the fans on Saturday, his behaviour was described as being a bit mad. Unlike most managers, he once was a fan himself who followed his team Lazio home and away, and it's a bit sad that should be described as odd. Should managers just retreat with a police escort when their team loses?"
Former Black Cats manager Steve Bruce, one of five men to have been in full-time control during Elliot Short's five years as Sunderland chairman, has indicated the Di Canio approach is outdated.
"You cannot manage in the Premier League these days through a fear factor. You have got to be able to manage individuals," says Bruce, who is currently boss at Hull City.
That differing reaction from League players to internationals may have been the short-term downfall of Di Canio, who during a turbulent playing career was captain at Lazio, Celtic, Sheffield Wednesday and West Ham.
"At Premier League level you have player power that you don't have in League One," says Jeremy Wray, the former Swindon chairman who gave Di Canio his first coaching job in May 2011.
"With us, he had their respect because he had played at a level they could only dream of."
Wray, who remains friends with Di Canio, said the former striker "lives, eats and sleeps" football.
"He came in like a breath of fresh air and was a catalyst for change," he says.
"He was very enthusiastic, passionate and brought a real buzz to the place. If I ever called round to see him, even at 11pm, he was either watching a live game or analysing one on video."
Di Canio asked for tapes of all Swindon's matches from the previous season before his first interview, and detailed where he thought the team was going wrong.
"As a West Ham fan, I had a slight allegiance and brought someone onto the panel from a recruitment background who had never heard of Paolo Di Canio, and he said he was the most impressive applicant he had ever seen," adds Wray.
But he admits Di Canio's 21 months in charge at Swindon were "intense" and sometimes felt like a speeding boat, which was difficult to control.
"People might be frightened to take a risk on him now, and I wouldn't necessarily blame them," explains Wray.
"This setback will have hurt him, and he will be determined to prove everyone wrong.
"Any future club will get someone with a well-researched plan, although he will want autonomy. Trust is paramount, and he needs loyal lieutenants around him, but in my experience he is a born winner, who will deliver."
On leaving Swindon, a story did the rounds that Di Canio raided his former office and angrily ran amok. Marcotti saw it differently.
"He didn't break in. He went in with his assistant's keys to retrieve family photos and a picture his daughter had done," says the Italian journalist.
"He went at night because he didn't want the awkwardness of bumping into staff at the club."
Fourteen players were brought in at Sunderland over the summer, with Di Canio working under the title of head coach, alongside director of football Roberto De Fanti and chief scout Valentino Angeloni.
Four of those were players on loan, and four more were youngsters for the development squad, says Marcotti.
"It's extremely rare for a manager to be sacked after five games," he adds.
"I don't think that much has changed since he was appointed, but he wouldn't be afraid of starting at the bottom and working his way up again.
"Paolo Di Canio doesn't run. In a world where so many people are fake, he's real."
To succeed again, he may well have to adjust. His implied criticism of fitness levels at Sunderland under previous boss Martin O'Neill, and public clashes with several of his squad, appeared over the top.
"The man says he's not going to change and I think you are what you are,"
"If it doesn't work you've got to hold your hands up and say, 'it might have worked at Swindon but in the Premier League it hasn't worked'. You have to look at yourself and say, 'if I get the next job do I do it like that or don't I?'"
It is easy to write Di Canio off as some kind of barmy general, but he has worked with, and under, some of the best-known names in the game.
Roberto Baggio, Franco Baresi, Marcel Desailly, Rio Ferdinand and Frank Lampard were team-mates at various stages during his career.
And he was managed by bosses ranging from Marcello Lippi and Fabio Capello to Harry Redknapp and Ron Atkinson.
"He's a very intense guy, like he was as a player," says Marcotti.
"He has these very high standards which he tries to instil in players. He's one of those people that think if you play football for a living, you have to behave in a certain way."
When reflecting on his own career as a player, Di Canio said: "I have come to realise that, with a few very rare exceptions, to be a successful manager you have to be mean, tough and often a little unfair."
Life as a manager is proving to be all those things for the maverick Italian.