Paolo Di Canio: Sam Allardyce says sacking was 'knee jerk'
Last updated on .From the section Football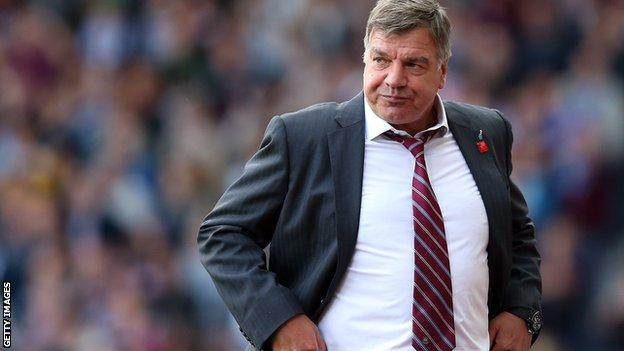 West Ham boss Sam Allardyce believes Sunderland have made a knee-jerk decision by sacking Paolo Di Canio.
The former Swindon boss was appointed in March to replace Martin O'Neill.
"If it doesn't go well they seem to be making a knee-jerk decision to change the manager," said Allardyce, who left Newcastle in 2008 after eight months by mutual consent.
None of Sunderland's last four managers, Ricky Sbragia, Steve Bruce, O'Neill and Di Canio, have lasted 100 games - which is the landmark Allardyce will achieve at West Ham on Tuesday when they face Cardiff.
"They've been pretty quick at pulling the trigger recently, in the last three managers," continued the ex-Bolton boss.
Di Canio won only three of his 13 matches after replacing O'Neill and took one point from five top-flight games this campaign.
Sunderland had brought in 14 new players in the summer with Di Canio working with director of football Roberto De Fanti and chief scout Valentino Angeloni on their transfers.
"I find it very difficult to see where the logic lies in it, particularly when there has been a full clear-out [of backroom staff]," said Allardyce.
"To go through that process in a particular season which has got under way is a huge task for whoever is going to be the next head coach."
Di Canio immediately attracted controversy following his appointment in March but Sunderland narrowly avoided relegation last season, thanks partly to a famous 3-0 win over Newcastle - their first victory at St James' Park over over their local rivals in 13 years.
However, public criticism of his squad at the end of last season was followed by bans on mobile phones, tomato ketchup, mayonnaise and ice in Coca-Cola at the club's training ground.
After Saturday's 3-0 loss to West Brom, Di Canio was verbally abused by travelling supporters and further criticism of his players led to anger among the squad.
Allardyce believes the controversial manager may have to change his style if he is to return to the Premier League.
"The man says he's not going to change and I think you are what you are," he said.
"You've got to be true to yourself; if that's your style, that's your style. If it doesn't work you've got to hold your hands up and say, 'it might have worked at Swindon but in the Premier League it hasn't worked'.
"You have to look at yourself and say, 'if I get the next job do I do it like that or don't I?'"
Former Blackburn boss Allardyce believes managers should be given more time to settle in at clubs but fears management has now become about just surviving.
"What you fear for is the sack, obviously, and it is a survival game," said the Hammers manager.
"Particularly the young managers who come in, you've to learn how to survive and then evolve.
"When it is seen to be 100 games well done, it really does worry me. If it's 300 games or 400 games, fine. But 100 games?
"This should be more often across the board than it is now because of the constant changing of managers and coaches that we are now faced with, that 100 games is now something of an achievement. For me, I think that is pretty disappointing."