Lee McCulloch leads from the front, back and middle for Rangers

By Rob Maclean
BBC Scotland
Last updated on .From the section Rangers79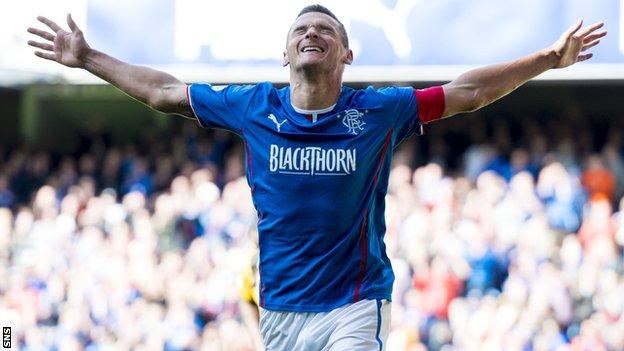 Who's running the show at Rangers? It's a frequently-asked question without an instantly obvious answer.
The battle for power in and around the boardroom appears never-ending and there's a desperate need for clarity to replace confusion.
Out on the pitch, though, there are no such doubts about leadership.
Rangers may be a team in transition but some things never change. Like Lee McCulloch's steely determination. And all the 35-year-old club captain's playing passion is directed at getting his team back in the big league.
He doesn't need to roar from the rooftops about his burning desire to have Rangers playing in the Premiership in two years time. You just have to watch him play.
I did just that from the BBC Radio Scotland commentary box at Palmerston as Rangers ended Queen of the South's hopes of repeating their Ramsdens Cup shock of almost exactly a year before.
And McCulloch was a standout performer as the League One leaders got the job done in Dumfries.
Not just for two towering headers, one which put the opening goal on a plate for Bilel Mohsni, the other which took his individual goals tally in the first couple of months of the season to an amazing eight.
No, it was the general quality of his play - in central defence that night - which made him the top player on the pitch by a distance.
Just as impressive was his attitude. If he's in any way underwhelmed by playing in Scottish football's third tier, it doesn't show. And there's no doubt that rubs off on the players around him.
He demands full focus and total commitment.
Even in his mid-thirties, former Wigan and Scotland midfielder McCulloch could be playing at a much higher level if that's what he wanted. It's not.
What he does want - badly - is to see the club he loves back where he reckons they belong.
A former Rangers captain, Davie Weir, was still playing for the club into his forties and that was in the SPL. It wouldn't surprise me if McCulloch did the same in the Premiership.
I'm sure he'll be around for the next couple of promotion parties and, beyond that, it's all down to his physical wellbeing. If big Lee's body can stand the strain, he could emulate Weir's achievement in extending his football life beyond forty.
The influence of McCulloch can't be overstated and more and more of his team-mates - as manager Ally McCoist continues to upgrade his squad - clearly share the skipper's vision.
Rangers don't need to be signing up so many Premiership-quality players to win promotion to the Championship. A sentence containing the words 'nut' and 'sledgehammer' springs to mind.
Are they pressing the gamble button (maybe not a great idea in the current climate) in the hope of making a money-spinning Scottish Cup run?
Certainly their playing performances have been easier on the eye, with one or two obvious exceptions. And even allowing for the odd stutter, they'll cruise to another promotion with the minimum of fuss.
Leading from the front, or the back, or in midfield for that matter, is the impressive and inspirational figure of Lee McCulloch.