Luton Town: John Still defends Ronnie Henry fan altercation
Last updated on .From the section Luton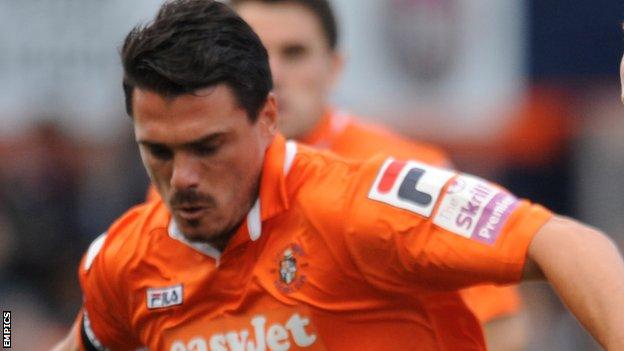 Luton Town boss John Still has said captain Ronnie Henry was standing up for his team-mates when engaging in a verbal dispute with a supporter.
Henry, angered by comments made at half-time when the Hatters were 1-0 down to Lincoln on Saturday, confronted the fan after
"I think Ronnie Henry stood up for his team-mates. I applaud him for that.
"I'm not 100% sure that he's done it in the right way. But I support him," Still told BBC Three Counties Radio.
"Sometimes you have to stand up to what in effect can sometimes be classed as bullying.
"When people can't respond to something, I think that is classed as a form of bullying."
Luton, in the Championship as recently as 2007, are in their fifth successive season in non-league football, a fact that frustrates a large proportion of the expectant Hatters contingent.
The incident involving Henry followed previous bosses Richard Money and having to endure strong supporter criticism.
"A fan at half-time decided to take it onboard and try and come to the tunnel at me," Henry told the club website.
"He said a few words to myself about me and the rest of my team-mates, and I've been taking it for too long now to keep taking it.
"So I decided to speak to him at the end, asked him for a chat, and he hid.
"And then he clapped, so I told him don't clap. If you're not going to be behind us, don't come."